Since Marion wrote about David and Maria's visit, he asked me to write the blog post about our travels with Betsy and Mike.  So here goes.  I won't just be writing about the places we went and the things we experienced, because for me it was all about being with my daughter, who I hadn't seen in a year and a half.  It was about getting to know Mike, the man she has chosen as her partner in life.  And it was about sharing a once-in-a-lifetime trip together and creating an amazing memory I will cherish for the rest of my life.
Marion planned most of the trip with David and Maria, and it fell on me to plan Betsy and Mike's.  Being the Botswana travel agent is a challenge.  Making reservations is a challenge.  You are affected by power outages, slow internet connections, or the internet just plain not working at times.  That goes not only for me, but for the people on the receiving end as well.  So the turnaround time on an inquiry can take days.  Completing a reservation can take a week or more.  Then you have to figure out how to send a deposit.  Not every place takes VISA, and if they do, there may be a hefty surcharge.  Sometimes you have to transfer money into their bank account, all the while calculating exchange rates.  Some just ask you to pay cash in the local currency when you arrive.  I spent a lot of time praying that things turned out the way we had planned, and in the end, just had to trust that my choices didn't end up being a major disappointment.
I decided that I would have fun showing Betsy and Mike a variety of ways to travel.  I planned some cheapo travel, the Peace Corps Volunteer way, and planned some the luxurious American tourist way. Luxurious is a relative term mind you, when you live in rural Botswana. They said they were game for this, bought or borrowed backpacks, and came ready to embrace the journey.
They landed in Johannesburg, but went south and visited Cape Town for a few days before coming to Botswana.  They will have to tell you about that part of the trip.  Marion and I chose not to go with them to Cape Town, as we had traveled to Cape Town  in March, and wanted to save some pula for the rest of the trip.
Betsy and Mike arrived on a Tuesday.  We had arranged for an acquaintance in Mochudi to drive us to the airport to pick them up and bring them back home.  This is a splurge for us, as we normally take the bus or hitchhike to Gabs. The plane was late.  My mom's heart was racing in anticipation of seeing my girl. Finally a South African Airlines jet taxied in.  Marion and I stood by the window to watch as passengers came down the airplane steps onto the concrete walkway.  Through the window, we spotted
Betsy and Mike and gave a wave as they walked past, headed to the immigration area of the airport.  A short eternity later, they emerged from immigration.  My sweet Betsy P. was finally here, coming home to me.
First stop, Mochudi…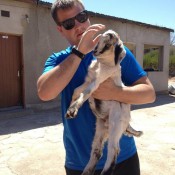 Mochudi is home to us and we see it as "normal".  I wondered what Betsy and Mike would see with their "fresh eyes".  Would they see our cute little Mochudi house with the same affection I have, or would they focus on the dirt yard, the cracks in the walls, the unfinished bathroom with no tile around the tub, and the tired, worn out government furniture that fills our sitting room.