We have less than one month before we leave to begin our Peace Corps service.  Yesterday we received the "Staging" email from the Peace Corps with our travel itinerary.  Getting this email really made our day.  It is the last official communication we get from the Peace Corps prior to being in the Peace Corps.  This long journey from applying to when we will board the plane will have taken 17 months.  It is becoming very real now.  We are anxious to get started.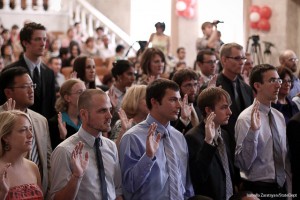 When we get to Philadelphia we will be Peace Corps Trainees.  We aren't actually Peace Corps Volunteers until the swearing-in ceremony at the conclusion of Pre-Service Training (PST) in Botswana.
Our agenda in Philadelphia…
Thursday, March 31 we fly to Philadelphia and register for the "staging event"
Friday we have meetings all day.  We will get our immunizations, meet the other 38 people in our group (Bots 10), and learn what is expected of us.
Saturday morning, April 2, at 2:30 am we board a bus for JFK airport
A few hours later at 11:15 am we fly away to Gaborone, Botswana, by way of Johannesburg, South Africa.  The flight will last over 15 hours.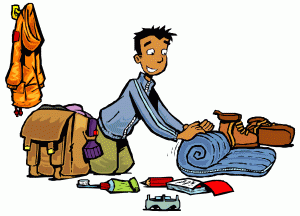 During the last few weeks we have started planning our packing.  We have been in communication with people already in Botswana and have gotten some great information.
Some interesting things we had to consider are:
Clothes should be suitable for being washed by hand.  We will have to hand-wash our own clothes, probably in a bucket.
We need to bring a headlight and flashlight because the power goes out fairly regularly.
We will bring an umbrella, primarily to shield ourselves from the sun.  In the summer the temperature could gets in excess of 110 degrees.   (we will NOT have air conditioning)
It surprised me to find out that it also gets cold in Botswana.  We will bring sleeping bags, winter jackets, gloves and long-johns.  It gets down in the 30's at night in the winter and the houses are not insulated in the least.  If it is 35 degrees outside, it is 35 degrees inside.  By mid morning it is warm again.
We will bring some extra window screening materials to screen the windows, or repair the screens if needed.  Mosquitoes can be bad and carry malaria.  We will be taking malaria medicine, provided by the Peace Corps, from the first day in Botswana.  The Peace Corps will also provide us with a mosquito net to sleep under, and plenty of bug repellent.
Electricity converters and adapters are required for our American gadgets – that is

IF

we have electricity, many volunteers do not.  Cross your fingers.
Some people bring dry shampoo, because they cannot bear to wash their hair on winter mornings (remember 35 degrees) with no hot water.  If we want hot water we will have to heat it ourselves.
All of our meals will be prepared from scratch by us (okay, mostly by Tish).  Tish will be packing good quality kitchen knives, vegetable peelers, pans, etc.
Leisure clothes, work clothes, play clothes.  In Botswana despite the conditions of high heat and hand-washed clothes, we are expected to look professional and neat.  Stain resistant and wrinkle free must be on the tags of most of our clothing.
We need to make room in our luggage for the things that have personal significance.  The photos, knick-knacks and music that make a place your own.   I am told that this is one of the most important things to pack and makes being away from home and family more bearable.
Thankfully, we will be able to buy many things when we visit the larger cities in Botswana, so the things we forget can hopefully be purchased there.
Currently we have a long list of things to bring, some of which we have not bought yet.  There are piles of stuff in the corners of our room and in another room of the house.  At some point we will finish buying things and see if it will fit into our luggage.  We are limited to two suitcases with a max weight of 80 lbs total, plus one carry-on backpack.  We are also limited by what we can handle by ourselves.  I can't help Tish; I will have two suitcase of my own!  There won't be anyone else to help us lug our baggage around the airports and hotels we will be passing through until we get to our final location.
Once at PST, each of us will be placing one of our two suitcases into storage for two months.  They will come out of storage after PST and will go with us when we leave for our own house at our eventual site location.  Our other suitcase will go with us to our "home stay" (where will live with a Botswana family during PST).  With this in mind there is a lot of thinking going into what goes into which suitcase.
This is a very busy and exciting time for us.  The long wait will soon be over and we will be on that airplane headed to the other side of the world.
---
Note:  The actual packing list we ended up with can be seen HERE