Funny how the mind works.
For the past 12 months our focus has been on joining the Peace Corps.  Tish and I have been slogging through the marathon application process.  During this time we also managed to sell our house in a depressed market.  We had to find a place to stay temporarily (granny's house) and decide what to do with our household goods — selling, loaning, donating, or storing everything.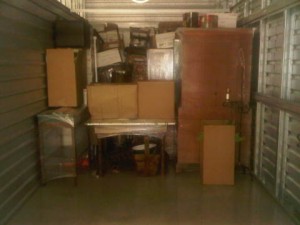 Much of our former life now resides in a 20' x 15' storage unit about two miles up the road, which we rent from ExtraSpace Storage.  Our storage unit is locked and secure, it has electricity, and is heated and air conditioned.  There is a working indoor toilet on the premises.  In fact I suspect that my stored furniture will be living a lot more comfortably than Tish and I will be in a few months.
Getting to the point of this post…   I am thrilled that all of this time and effort has yielded the official Invitation letter.  We are invited.  But as of this moment, we have not served even one day in the Peace Corps.  Our focus has been so much on getting the invitation that I have this relaxed "my job is done now" feeling.  I wonder if this is normal for Peace Corps applicants.
I am extremely proud that Tish and I have been invited, and maybe it is just human nature to let down just a little, but I need to remind myself that the invitation is not the goal… the goal is the 27 months of Peace Corps service in Botswana which begins in April.
We need to quit celebrating and get back to work.  There are things we need to do.  We need to learn all we can about Botswana and the HIV/AIDS problem there, and we need to learn the little bit that is available on the language (Setswana).
Break's over, back to work.  We haven't even started yet.