My friend and fellow Peace Corps Volunteer, Dinah Sandoval, is organizing a big event in her village of Shakawe that includes a half marathon race, a 5K race, and a Health Expo.  She hopes to raise enough money to buy an ambulance/mobile clinic to increase health service delivery in hard to reach areas in Shakawe and the surrounding community.  Dinah has asked all the Peace Corps Volunteers in Botswana to come participate whether they run in a race or man a booth at the Health Expo.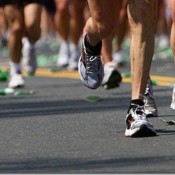 Even if I was up to running a Half Marathon again, there is no way I would want to endure another 16 hours on a bus to get there.  We visited Diana back in November 2011 and I wrote about that in a blog titled Longest Bus Ride… Ever.  It is a LONG way, and seems even longer if you don't have a car and have to travel using public transportation.  Not doing that again — no way.
For many years I was a runner.  I competed in races of every distance from short 5K races all the way to full Marathons (best time 3:31:08).  I loved running and was consistent — I ran the annual Peachtree Road Race 10K (best time 41:03) every 4th of July for 30 consecutive years, from 1978 through 2007, never missing a year.  Sadly, my running days are over now due to the cumulative effect of running all those years, and a few broken legs along the way.
But here I am involved in a road race again.  This time I am not running in it.  Dinah asked me if I would collaborate with her on the project.  She needed help putting together a web page for her event which would allow online registration.  She also asked me to create a Forum site so people who planned to run could discuss issues such as training, transportation, lodging, etc., with each other.  I have been working on this project for the last few weeks and the web sites have just gone live.  It is a work in progress with Dinah and others giving feedback and suggesting changes.  This type of collaboration between Volunteers is very typical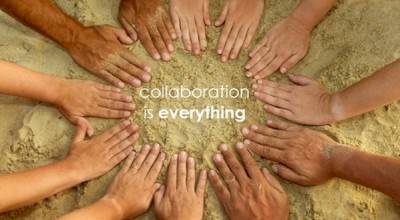 Being a Peace Corps Volunteers offers opportunities to collaborate in this way with other Volunteers on their projects.  Sometimes it requires travel to other villages.  Peace Corps Volunteers often find themselves collaborating with other agencies and organizations outside of the Peace Corps as well.  Tish cooperates with Baylor University in her Teen Club project.  The STEPS films projects is another good example of that.  I know of other volunteers who are collaborating with CDC, the American Embassy, Books for Africa, and many other organizations.  Most recently, in a post titled, A Beautiful Sight, Tish wrote about her collaboration with the Lions Club to get glasses for some of her kids at SSI.
The Peace Corps is a culture of collaboration.  Volunteers are encouraged to collaborate with each other, with other organizations, and especially with our villages.  Collaboration is really all we want to do.  Going off on our own to try and do everything ourself is not only not sustainable it is is less efficient.
I have received help along the way from other Volunteers and am happy to help Dinah.
Edited 3/24:  I will be going to Shakawe after all.  Dinah has arranged free lodging for me at a nice place, and I will be traveling in a very nice SUV belonging to the friend of a friend who is in the race.  I am looking forward to the trip and seeing the event take place.