Yesterday, Maggie, one of our social workers, called to me, "Do you want to be part of something special?"  "Sure", I replied.  Who would turn down an offer like that?  She waved me over and I followed Maggie, Mosa (another social worker), and eight kids in to the staff room.  Mosa was carrying a small box.  As I passed I could see what it contained: hard-shelled eyeglass cases, each labeled with a child's name.  Yes, Yes, Yes, my mind screamed, as tears welled up in to my eyes.  Maggie shared my joy and gave me a smile and a nod.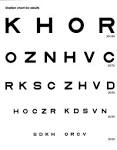 Last April, Stepping Stones International (SSI) partnered with another NGO, Ipelegeng Health Institute, to put on a Community Wellness Day for our youth, their caregivers, our community partners and neighbors.  I asked them to include vision screening, as we wanted the SSI participants screened for health problems that could affect their school performance.  If you can't see the board, you are going to struggle in school.  Ipelegeng showed up with computer generated Snellen charts, posted them on a wall, measured the spot where the person being screened should stand, grabbed a couple of older youth and told them to start doing vision screening.  As I watched I realized they didn't know what they were doing, so I took over.  If I uncovered someone with an abnormal result, we referred them to the eye clinic at DRM, the local hospital, for a formal eye screening and follow-up.  Crudely and unprofessionally done, at least it was a start.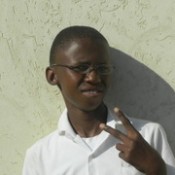 Masie, one of our awkward, geeky, kind-hearted boys, struggled to see the eye chart, leaning and twisting his head to make out the letters.  It was clear he couldn't see well.  His mom was at the Wellness Day, so we told her how to follow-up.  A few weeks later, Masie told me he had been to the eye clinic, was prescribed glasses, but his family couldn't afford them.  I talked to Mosa, the social worker about this, but she didn't know how we could help him get the glasses.  I made a trip to DRM and visited the eye clinic.  The nurse told me they did the screening and wrote the prescription, then sent the individual to the optometrist for glasses.  The eye clinic responsibility ended there.  He referred me to the Social and Community Development (S&CD) office to talk to a social worker about Masie's situation.  I walked there next, and after a short wait got to talk to a completely unmoved and unmotivated social worker.  She told me a case worker from Masie's ward would need to make a home visit to do an assessment to see if the family qualified for assistance to get the glasses.  I asked about family income requirements, how to prepare for the visit, and told her Masie was a registered OVC (orphan or vulnerable child).  She wouldn't reveal any information, just kept repeating that an assessment had to be done.
I went back to SSI and told Masie what he needed to do.  He went home and told his mom.  I asked him to bring me his clinic card so I could make a copy of the recommendation for glasses.   Weeks passed and Masie kept bugging me about glasses.  Nothing was happening.  From my years in diabetes related health care, I knew that Lions Club International worked to prevent blindness and would hold free eye screenings for folks with diabetes during November each year.  I Googled Lions Club in Botswana and was pleasantly surprised when a link popped up showing a chapter in Gaborone, just a 45 minute drive from Mochudi.  I telephoned the contact number, and they gave me the phone number of the chapter president, Anthony Mathias.  I quickly formulated in my head a heart wrenching plea for help, then I called and reached him right away.  He told me Lions Club was having a board meeting on Thursday, and asked me to attend to discuss the request.  They were looking for an organization to partner with for a community service event.  Amazing – nothing happens this fast in Botswana.
Unfortunately, I had to be somewhere on Thursday, so I recruited Joanna and Lila to attend the Lions Club meeting.  They were the experts in negotiating with community partners for services and donations anyway, and had the authority to commit SSI to such agreements.  They attended, were received positively and the ball started rolling.  When I was away on vacation with David and Maria in August, Lions Club arranged for SSI to bring those kids having vision problems to Gabs for a proper vision screening and fitting for glasses if needed. The rest is history.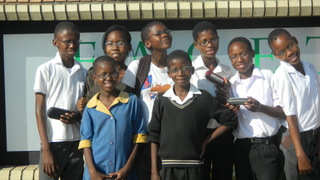 Yesterday, thanks to the team work of many caring and committed co-workers from SSI and Lions Club International, Masie and seven other children have glasses.  Masie was absolutely beaming.  A beautiful sight!