…The Teen-Caregiver Communication Workshop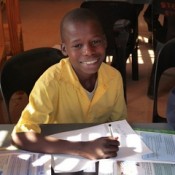 In March of  2012 we had our monthly Teen Club meeting.  The Teen Club is for HIV positive youth ages 12-19, almost all of whom were born with HIV, before much was known about the virus, and before Antiretroviral (ARV) medication was available.  At the meeting the kids revealed that they get very little support at home in dealing with HIV.  No words of encouragement, no "how are you feeling?", not really any acknowledgement that they are living with HIV.  Most of the teens feel pretty isolated.  My heart was breaking as Larona, a kid with a big smile and contagious laugh, said to me, "Oh my mother might say, 'if you don't take those pills you will die!'"  How could a teenager be expected to deal with a potentially life threatening chronic illness like HIV without encouragement and support from his family?
I discussed this with my counterparts at Stepping Stones International and we decided something had to be done.  This needed to be addressed with the caregivers.  I use the term "caregivers" because most of these kids have lost their mothers or fathers to HIV/AIDS and are living with grandmothers, aunts, uncles, or older sisters. Since I am the primary person responsible for Teen Club, I took on the task of organizing a workshop to address communication in the home about the challenges teens face in living with HIV.
I knew that a parent-child communication workshop had been run for SSI's leadership participants, so I recruited Nontombi, the Leadership Coordinator, and Maggie, one of our social workers who had been involved with that work, to be on my planning committee.  Thato, the incredible young man, who is my partner in almost all I do with Life Skills at SSI, also helps with Teen Club, so he, and Tinny, our Operations Manager, the person who can make anything happen in Mochudi, also were included.  I got Joy, the head nurse of the IDCC (Infectious Disease Clinical Center) that runs the ARV clinic at DRM, the local hospital in Mochudi, and one of her social workers, Sebati, to also participate.  I invited Tswelelo, a male nurse, from Baylor Children's Clinical Centre of Excellence, the parent organization in Gaborone that supports Teen Club, to join in.  Most importantly, we asked the Teen Leaders to participate, to be the voice of the Teen Club youth. 
I started with an assessment of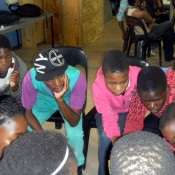 the teens.  At a subsequent Teen Club meeting, we divided the teens in to small groups and the Teen Leaders asked them questions and recorded their answers.  What are the biggest challenges as a teenager living with HIV?  What do they wish they could talk openly with their caregivers about?  With their health care providers?  What would help them with ARV adherence?  What needs to change in the community to reduce the stigma of living with HIV?
The answers weren't surprising.  The main challenges were telling family and friends about their HIV status and dealing with stigma and discrimination.  The teens wanted to be able to talk to their caregivers about living with HIV, how to stay healthy, sex, relationships, how to disclose their status to others, and how to deal with stigma.  They had questions for health care providers about taking their medicine and what happens if they stop taking it, and can they ever stop taking it; about CD4 counts, and cures, and how to safely have sex.
I realized I needed the same input from the caregivers. There are two sides to every story.  I sent home letters to about 40 caregivers, asking them to come to a meeting to see if they were interested in the workshop or even saw a need for it.  I had to get Thato and Nontombi to translate it in to Setswana, as many caregivers are not fluent in English.  When I distributed the letters to the teens to take home, I immediately began to hear grumbling in the room.  Finally someone spoke up and said, "Why did you put the meeting on a weekday?  Our caregivers won't come.  They will be at work."   Mistake number one.  I assumed most caregivers were unemployed and at home.  Too late to change the meeting day.
Five caregivers out of 40 showed up the following Tuesday.  Major disappointment.  They said they didn't realize there were problems with communication at home.  I shared with them the list of answers to the teen assessment.  Awareness dawned on them slowly.  I asked them to answer the same questions from their perspective. What are their concerns as caregivers in discussing HIV with their teen?  What do they wish they could talk openly about with their teens?  With the health care providers?  What type of support do they need as caregivers?   Emotions bubbled to the surface and tears were shed.  Raising an HIV positive child came with guilt, and fear, and concern for the future.  The caregivers needed support too.
Since the showing at the meeting was so small, I had the teen leaders make follow-up phone calls to the caregivers that did not attend, to determine interest in the workshop.  No point in moving forward if no one cared to attend.  The overall response was positive, so I decided to forge ahead.
From the assessments, I formulated an outline for the content.  I wanted this workshop to be in your face, talking about living with HIV.  Stop pretending it doesn't exist and keeping it a secret.  Let's talk about the 12 ton Botswana elephant in the room.
The planning committee met.  We reviewed the content outline, made adjustments, talked about potential facilitators for each session, scheduling, funding, and logistics.  During some of the sessions, the teens and caregivers would be separate, some sessions together.  Topics would include: the basic facts about HIV and its treatment, understanding your adolescent for the caregivers, understanding your caregiver for the teens, and understanding each other in a joint session.  Basic communication skills, adolescent sexual reproductive health for HIV positive youth, stigma and discrimination, would be covered.  And the biggie: disclosure.  Disclosure means different things to different people.  Most think of disclosure as revealing to the child that he or she is HIV positive, but these kids knew their status.  That is a requirement to attend Teen Club.  We were talking about telling others you are HIV positive.  In some of these families, the teen and the granny know the teen is HIV positive, but the aunts or uncles or cousins had never been told.  Or the aunt, the child's caregiver, had never told the teen, I am HIV positive too.  This was the crux of the problem.  No one really likes to admit HIV exists in the family.  If it isn't talked about, one could pretend it didn't exist.  One didn't have to deal with the feelings that surrounded HIV.  This only contributes to the major problem of stigma, and makes the teen feel like an outcast.  We had to tackle HIV stigma in the family.
We finalized our plans. The workshop would be held on two consecutive weekends, to make it easier for caregivers to attend: a Saturday and Sunday, the last weekend in November, and the final day on Saturday, December 1st, World AIDS Day.  It was primarily up to me to make it happen.
It is important to involve community stakeholders in events like this.  I was trying to get speakers from Baylor Children's Clinical Center of Excellence in Gabs – the Botswana experts for HIV positive children and adolescents, BOFWA – Botswana Family Welfare Association – that serves adolescents with reproductive health services and HIV testing, BONELA – an organization that advocates for the rights of people living with HIV, DRM – the local hospital in Mochudi with the IDCC/ARV clinic, and the District Health Team (DHT) in Mochudi, for sexual reproductive health expertise.
Botswana is a country that values protocol.  Organizations are top heavy, full of bureaucratic hierarchy.  You can't just ask someone to participate in a workshop, get their commitment and be done with it.  You have to write a formal letter to the person at the top of the organization, hand deliver it, then make a gazillion follow-up phone calls to see if they have approved the person to participate.  If you can't speak to the boss directly, you may have to visit in person again to make sure the request has been addressed.  And for me, a Peace Corps Volunteer, making a visit means walking to the organization, or in the case of Baylor in Gaborone, taking a bus, a combi, then walking to deliver something.  Few organizations have internet and email, and even when they do, some still require the formal hand delivered letter. Printing letters is dependent on electricity for the printer and working internet, both of which come and go at random.  Even making phone calls is a hassle.  I needed to use the land line phone at SSI, and sometimes, I had to get in a queue behind other SSI employees to use it.
Sound like a hassle.  You got that right.  And this wasn't even my primary responsibility at SSI.
With guidance from my planning committee, I formulated letters and delivered them three to four weeks prior to the workshop.  I gave specifics for the objectives of each session.  I didn't want any talking around the issues – let's be sure we hit them head on.  I had verbal commitment from Joy, the IDCC nurse, and Tswelelo, the Baylor nurse.  I was able to email a contact at BONELA, got a quick response and agreement to participate.  All right I thought, maybe this workshop will actually happen.
I waited patiently to hear from the others.  Not a word in the first week, or the beginning of the second week.  I started making phone calls, had difficulty speaking to the powers that be in person, and left messages.  I walked to DRM and left a message in person and heard back the next day that Joy and another nurse from the IDCC were approved to participate.  Nothing from the DHT, nothing from BOFWA, nothing from Baylor.  And during this time, I had traveled to Gabs to meet with the Teen Club Coordinator, to discuss funding for the workshop, formulated a budget proposal and submitted it.  He promised to advocate for funding.  Letters went home to caregivers inviting them to the workshop.  We promised tea and lunch, but couldn't afford to give transport money – combi fare to SSI.  Not good, I thought, recognizing that some may not have the extra pula for transport, but it was the best we could do.
The final week rolled around and I was still scrambling.  I was on an emotional roller coaster.  Up, when I confirmed a speaker or got a phone call from Joy to meet and go over the workshop details.  Down when repeated efforts contacting speakers were left unanswered.  Baylor was unable to fund any portion of the workshop.  Major down.  Thankfully, SSI had funds from a grant that was for activities that promoted improved caregiver – child communication.  Back up.  Two days before the workshop, Baylor also let me know they were unable to provide a speaker on understanding adolescence.  I had spoken with B2, the Teen Club Coordinator, and he had delegated the topic to a psychologist there.  Unfortunately, I got a phone call from the psychologist, stating she had a funeral and wouldn't attend.  Down I went again.  I started venting my frustrations loudly.  Nontombi, the leadership coordinator who was presenting the communication sessions, told me not to worry so much.  She would take over that session.  No problem.  Heading back up.  On my fourth phone call to BOFWA, I was told my contact was out of the country!  Down again.  I had to write them off and punt.  I was recruiting two speakers on reproductive health, one for caregivers and one for the teens – we'd just have to have a combined session.  Now if I could just hear back from the DHT.  On Friday, I stopped at the DHT on my walk to SSI.  Dr. Solomon, the chief medical officer, had assured me on the phone he had approved someone to participate, but I didn't know who.  I went looking for Mma Pone, the nurse matron in charge of adolescent reproductive health.  Her boss got her out of a meeting for me.  She told me she would come and give the talk herself on Sunday. Amen!  Last speaker confirmed.  Maybe this workshop would come off after all.  I laughed to myself, knowing this is the Botswana way.  People come together at the last minute to make things happen.
My teen leaders came mid-week and made phone calls to the caregivers to confirm their attendance.  We reached most of them and had 32 said they would attend. YIPPEE!  The number was more than I had anticipated. Things were looking up.
I met with Nontombi, Maggie, Chawa, and Thato to go over the workshop revised plan.  We reviewed session plans I had created that they would facilitate.  Everyone was on board and ready to roll.  The caterer was confirmed.  Tinny would be around to help with logistics.
I went home Friday afternoon at peace.  I sent reminder text messages to the caregivers and teens to arrive between 7:30 and 8 am.  I had done everything I could to make this workshop the best it could be.  I was dependent on my counterparts and speakers.  If it was a complete failure, at least I would know, and more importantly, the teens would know, I had tried.
I woke up early Saturday morning.  It was pouring down rain.  My heart sank.  Would anyone even come in the rain?
I caught a combi to SSI, to avoid walking in the rain.  As I was waiting, I said a prayer, telling God I was turning this workshop over to him.  I climbed on to find Lebo, a coworker from SSI who was the caterer for the workshop, and Tshepang, a teen club participant, on the combi.  I smiled to myself.  A good sign.  I arrived at SSI at 7:20am to find Kutlwano, one of my teen leaders and his two caregivers, waiting outside, trying to stay dry under the overhang of a building.  This workshop was important to him.  He talked frequently to me about his inability to talk openly about HIV at home.  He so wanted help, so wanted to things to be different.
As I scurried around, opening buildings and doing last minute set-up chores, the rain continued.  In came a handful of teens and caregivers.  My coworkers from SSI: Nontombi, Maggie, Chawa, and Thato arrived by 8 am.  Joy from the IDCC appeared.  We didn't really expect to start until 8:30 or 9, as few people in Botswana show up to events on time.  It's just part of the culture – a very frustrating part for an organized American.  Tinny showed up and headed out in the SSI combi, to see if she could find people needing a ride in the rain.  Folks kept trickling in.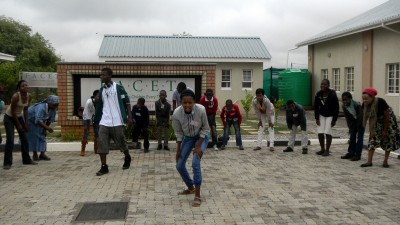 By 9 am, we had 20+ caregivers and 30+ teens – an absolute miracle!  We started in the typical Botswana fashion:  an opening prayer, followed by introductions and icebreakers.  Then, as prearranged with three of my teen leaders, they came forward to open the workshop.  First, Kutlwano.  "My name is Kutlwano and I am HIV positive."  He thanked the caregivers for coming and the support they give to their children.  Next, Gorata.  "My name is Gorata and I am HIV positive."  She spoke for the teens and listed their biggest challenges in living with HIV: talking openly about being HIV positive, stigma, relationships, sex.  Last, Goitseone.  "My name is Goitseone and I am HIV positive.  We want to be able to talk openly with our caregivers about our life, our status, our relationships, how to stay healthy, sex, stigma and discrimination."  There, it was out in the open.  No doubt about the purpose of this workshop.  We were here to talk about living with HIV.
The rain continued.  We split the teens from their caregivers and held separate sessions.  First we did an assessment exercise to determine their comfort with talking with one another.  This was followed with a session about understanding your teen for the caregivers, and understanding your caregiver for the teens.  I went around snapping photos.  Nontombi was working her magic, getting the caregivers involved, talking openly, and actively participating.  Maggie and Joy had the teens.  It was slower going in there.  They were astonished to hear the teens talk about the lack of communication at home, what they had told me back in March, what made this workshop happen.  Each group came up with a list of things to share with the other.  We brought them back together and a spokesperson from each group came to the front and shared their lists.  There was discussion of the need for mutual respect in communicating with one another, and the acknowledgement of the need to talk more.  Score!  We were off to a good start.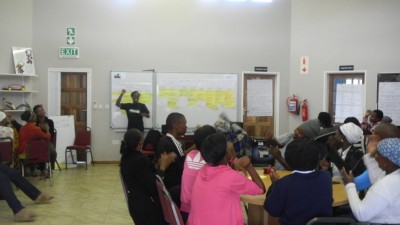 The day continued with a showing of the TeachAIDS video, followed by questions and answers about HIV and its treatment by Joy, the nurse from the IDCC.  We had so much discussion, we ran overtime and had to defer the last session of the day until Sunday.  A problem, but a minor one.  I told myself it meant the sessions were providing much needed information.  The final head count was 28 caregivers, 39 teens, and 8 staff/facilitators.  On a rainy day.  With no transport money.  Amazing.  God is good.
But would they come back tomorrow?
Sunday, a misting rain was back.  By starting time, the room was filled with teens and caregivers.  Mma Pone from the DHT arrived early, saying she wanted to attend all day, to better see the needs of the group.  Nontombi began by asking for feedback about Saturday's sessions.  A thirty-ish uncle/caregiver, shared that he went home and had to rethink how he was handling things with his HIV positive teen.  He recognized a need to change and expressed gratitude for the workshop.  I get a lump in my throat just typing this. 
The first sessions of the day were about how to communicate effectively, done separately with the teens and caregivers.  They discussed barriers to communication.  The caregivers talked about their guilt and shame with having an HIV positive child, having lost the child's parent to AIDS, and their desire to protect the child from the associated stigma.  Again we then brought them back together for large group sharing and meaningful discussion.  Next Nontombi asked each caregiver and teen to take their chairs, sit together as a family, and take time to talk about issues related to living with HIV.  Showtime!  This was a tough one.  You could see the discomfort on the faces of both the teens and the caregivers.  They weren't used to this.  Some of the teens didn't have caregivers at the workshop.  I found myself surrounded by some of them, choosing me to be their stand-in caregiver, a heart touching honor.  Nontombi assigned kids without caregivers to other families, stressing that we are a community of families supporting one another.  Then we gave them time to talk, emphasizing that this was a safe place to communicate with one another.  Awkwardness slowly dissolved away and conversations started.  One teen began sobbing and couldn't get her words out.  She wanted to tell her granny how much she loved her, something she had never said before.  My own tears followed.  I saw Kutlwano engaged in intense discussion with his mom.  I saw eye contact.  I saw smiles and laughter and openness.  I saw sincere engagement in conversation.  Giant step forward!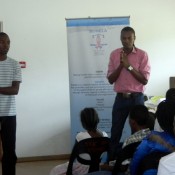 After tea, the next session was on stigma and discrimination.  Rodgers Bande, a representative from BONELA, was the speaker.  He had prepared a power point presentation, but quickly realized the need to get the participants involved, rather than give a lecture.  In the blink of an eye, he had the audience discussing the relevant points he had on his slides, listing attitudes and behaviors that contributed to stigma, in the home and in the community.  He concluded with inspirational words about hope, and healing, and loving yourself.  Thato and I were watching from the back of the hall. I whispered to him, "How do you say, 'I love myself', in Setswana."
"Ke a ithata" he replied.
"We need a Ke a ithata kilo (cheer of encouragement), I said with pleading eyes.  With a conspiratorial nod he agreed.  "Hugging yourself for the arm motion" I said.  Another nod.
We walked to the front to thank Rodgers.  As is the Stepping Stones custom, we thanked him and Thato commanded in his booming voice, "let's give him a Ke i thata kilo."  We gave a demo of our newly created cheer.  The teens and caregivers roared with laughter and delight, joining in, creating an exuberant response.  KE A ITHATA.  Smile, hug, smile.  I didn't think it could get any better than this.
We showed the STEPS film: 'Thinking About It" next.  It shows teens talking about sex and related issues of talking to parents about sex, abstinence, condom use, and transactional sex.  Thato and I facilitated a discussion with the caregivers and teens about these issues afterwards.  I was encouraged to hear that the caregivers recognized the need to address sexual issues with their teens.   Then Mma Pone came forward to answer questions and talk about adolescent sexual reproductive health.  We ran late again.  All day the sessions generated more discussion than anticipated.  Before she left, Mma Pone commented that this workshop was incredible and suggested it should be taken throughout Botswana. WOW – that was encouraging.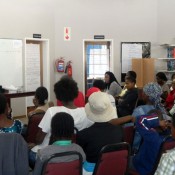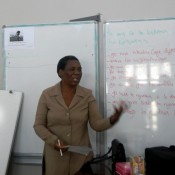 The weekend concluded with instructions to the teens and caregivers to talk during the week at home.  They were reminded the final day of the workshop was the following Saturday, December 1st, World AIDS Day, and encouraged to come back.  This day we had 24 caregivers and 40 teens.
Saturday came around quickly.  The agenda was less packed.  Disclosure was the main focus, followed by a World AIDS Day celebration.  This was our regular Teen Club Saturday, and 42 teens showed up.  We had fewer caregivers, only 13, but participation was still meaningful.  A nurse from DRM IDCC worked with the caregivers on disclosure, and Tswelelo from Baylor did the same with the teens.  They came together and talked about disclosure as a family.  After tea, caregivers and teens were given Pledge Cards to sign, saying they promised to use their new communication skills at home.  We had a World AIDS Day banner and asked each caregiver and teen to write one word on it, a word that represented something they had learned or felt or were inspired by as a result of the workshop.  Then the teens put on a talent show for the caregivers, showcasing singing and dancing, runway modeling, and joke telling.  It was good old fashioned family fun, filled with laughter, followed by a braii of good food.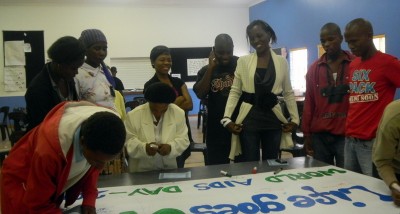 What words were on the banner, you ask?  They were:
 Respect
Communication
Thanks
Disclosure
Trust
Promise
Sharing
Love
Hope
Grace
Time will tell if communication improves at home for these teens I have come to love.  For now, my heart is full of hope.