Continuing from part 2 of the series of posts about traveling with Betsy and Mike…
To satisfy the anxious, anal participants in our group, we left for the Kasane airport early, about 12:30 pm to catch a 2:40 pm flight.  The cab ride took all of 10 minutes.  So we were in for a two hour wait.  Then to make matters worse, it was announced that our flight was delayed by an hour making it a three hour wait.  Our plan for a relaxing two hour layover in the Johannesburg airport with nice restaurants took a hit.  The Kasane airport is small, with only a snack stand, so we entertained ourselves with people watching, reading, pacing and fidgeting.  I spent time making multiple trips to the bathroom, dealing with a lingering upset stomach (Be glad I left that part out of the safari trip.)
Then as we waited, another announcement came – instead of going non-stop to Johannesburg; our flight was going to make a stop in Gaborone and would not arrive in Jo'burg until about 7 pm.  We had a connecting flight to Maputo, Mozambique at 7:10pm.  We were looking at 10 minutes to go through immigration and make it on to a flight on a different airlines — it was going to be impossible.  Before we boarded our flight we expressed our concern about our connecting flight and Air Botswana staff took our connecting flight information and reassured us we would make it to Maputo.
Somewhere between 3:30 and 4, we finally boarded.  Once airborne, the pilot announced the flight duration and told us we would be landing in Gabs in an hour or so.  We learned once we got there, we would have to change planes to get on the Jo'burg flight.  That flight was going to take over an hour.  Our layover in Jo'burg diminished to nearly nothing and potentially in to the negative numbers.  I'm not a worrier, so I just decided we would deal with missing our flight when it happened.  We had a guest house reservation in Maputo, but hadn't had to pay a deposit, so no money would be lost.  I also knew there was a flight the next day to our final destination of Inhambane, because that was the flight we would catch in Maputo.  I had chosen to make the overnight layover in Maputo rather than Jo'burg when I purchased the tickets.
The man I married is a worrier (now you know who one of the anal ones is), and he decided he needed to do something about this problem.  When we landed in Gaborone and were being escorted to the Jo'burg plane, which was waiting on the tarmac, already boarded by the Gabs passengers; Marion grabbed one of the Air Botswana staff, gave her our four names and our Maputo flight information and pleaded with her to call ahead and help us make the Maputo flight.
Off we went.  Our plane was going to land about the same time the Maputo flight was scheduled to depart.  After touching down and hearing the usual, "don't get out of your seatbelt until we tell you to" speech, the following announcement came.  "Will passengers Mobley, Paulk and Hanna please indicate who you are – Air Botswana will escort you to your connection".  The Jo'burg airport is huge.  It is THE international hub for all of southern Africa.  You have to take a bus from one area to the next for flight connections.  A nice lady from Air Botswana greeted us and handed us pre-printed LAM boarding passes as we got on the bus.  She told us, "When we get to the international connecting flight terminal, we have to run, okay?"  We all said okay, as we secured our heavy backpacks and curled our toes to clamp down on our flip-flops.  The bus door opened and the race began.  I again was quickly reminded of how out of shape I am.   Feeling weak and a little dehydrated, plus carrying a 20 pound backpack, and worrying about sphincter control, didn't help matters.  I was falling behind and Marion graciously took my backpack so I could keep up.  The Air Botswana lady led the way, using her gate pass card to take us through employee only areas for a short cut to the Maputo gate.  Except she cut through one gate too soon, requiring us to back track a little.  As we arrived at the gate, huffing and puffing, they announced the flight would board in 10 minutes.  It had had a short delay in departure time, perhaps for us.  Whew!
We arrived in Maputo after 9pm, relieved that our prearranged transportation to Residencial Palmeiros Guest House was patiently waiting.  Given the hour, we decided to skip going out for dinner, live off of the airline food we'd eaten and called it a night.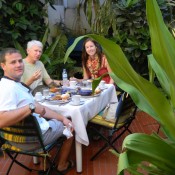 After a good night's sleep and a refreshing shower, we started the day with a wonderful Portuguese breakfast of tropical fruits and fresh squeezed juices, delicious fresh breads and pastries and hot black coffee.  We dined in a lush green garden tucked inside the guest house grounds. Two friendly house cats kept us company.  We had just enough time to take a quick walk around Maputo before heading back to the airport.  We found the local market, full of fresh vegetables, fresh fish, and fresh cashews. My eyes were sparkling with excitement.  Could it get any better?  We are not in the dry desert of landlocked Botswana any more.
After a short flight from Maputo to Inhambane, we were met by Paulo, who drove us to Casa Algodoal, the place that would be our Tofo beach home for the next five days.  As the trip travel agent, I was elated that things had gone well so far. In Africa, there are no guarantees. For each leg of the trip, our transportation was there as arranged, my choices for the raft trip and safari trip were better than anticipated.  The Old House in Kasane seemed like a place of luxury to Marion and me, given our home in Mochudi.  Staying in tents at Vic Falls wasn't so great, but that is the typical Peace Corps travel style, and part of the experience I wanted to share with Betsy and Mike.  I had my fingers crossed that this beach house was as good in person as it looked on the internet.  This wasn't a one night gig; this was the rest of our trip, the part I was looking most forward to, relaxing at the beach with my sweet Betsy P. and her best friend Mike, a chance for quality time together.  I so wanted this house to be just right, this beach to be beautiful.
Paulo gave us a brief tour of Tofo on our way to the house, pointing out the dive shops, market and restaurants.  Tofo is a small beach village, with vendors selling all sorts of colorful stuff, looking out onto the Indian Ocean beach that curves around a point.  From there we wound back out of the village, up a bumpy sand road to the top of a dune lined with another dive shop, restaurant, and guest house.  There were individual houses perched looking down to the beautiful green and blue water.  He stopped the car outside a palm reed fence and pointed us through a gate.
The gate opened in to our little piece of Tofo paradise.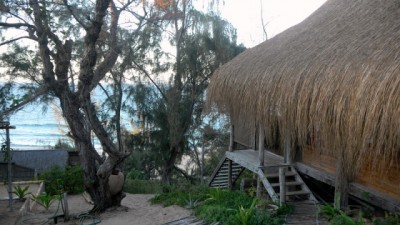 We followed a bamboo lined reed path to the side of a wooden house with palm thatched roof, nicely landscaped with lush greenery and flowers.  To the left was an outdoor cooking area, that included a braii grill, a domed clay oven, and a picnic table, covered with a wooden gazebo.  The path continued on past the house and turned in to brick steps that went on down the hill towards the beach.  The descending side of the dune had tall trees that provided some privacy for the house, yet allowed us to see the beach, Indian Ocean and the surrounding houses on the lower slope of the dune.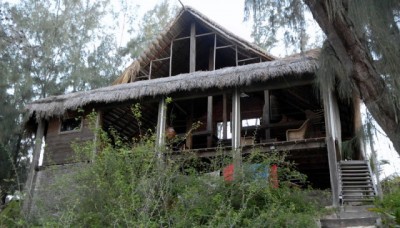 We quickly climbed the few wooden stairs into the house, stopped suddenly, dropped our backpacks, and scoped out the place in amazement.  The front of the house facing the beach was completely open, except for a couple of wooden support beams and waist high strands of thick cable wire running horizontally, a fence to keep us from walking off the front of the house.  Cool breezes greeted us as we took in the view.  The main room was huge.  It had a kitchen area on the far side, and a massive table and chairs for dining.  On the entry side was a sitting area with rattan loveseats, padded with cushions made from colorful African fabrics, and chairs for relaxing, reading, card playing and beach watching.  The back side of the house had two enclosed bedrooms, with plush beds, under white mosquito nets.  Between the bedrooms was a bath with an interesting stone trench sink and tub, and a window leading to a wooden enclosed outdoor shower.  Stairs between the bedrooms led to an upstairs loft, completely open to the front of the house, with the same incredible view.  The loft housed more sofas for sitting or sleeping, plus a hanging chair.
"Mom, we're staying in a tree house.  How cool is that!"  Betsy said with delight, a huge smile on her face.  I breathed a major sigh of relief.  Our home for the next few days was perfect for a once in a lifetime trip to the beach in Mozambique.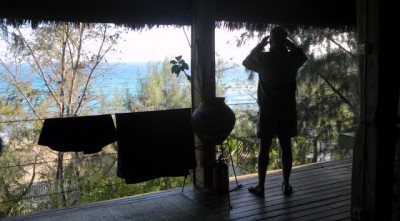 We quickly settled in.  We spent a few minutes using the binoculars to scan the ocean, spotting the spray from the blow holes of migrating humpback whales that pass through at this time of year – September and October.  It was mid-afternoon.  We decided to head to the beach and on to the market.  Walking on the beach to the market was the quickest route, more direct that the winding road we drove in on.  Our house was conveniently located in Tofo, close to the market and the center of activities.  On the way out, we met Dominique, who lived in a small house at the bottom of the dune, and was serving as caretaker for us and Casa Algodoal.  He gave us pointers on where to buy food and wine, and fair prices for seafood.  He introduced us to the gardener and security guard named Fortunato, who stayed in a small shack behind the house, and reminded me that a lady would come every other day to clean the house.  Dominique was a handsome 30ish South African, who had been living in Tofo for several years, and had a home construction business.  He also gave surfing lessons, as a side business.  He recommended dive shops and restaurants, and offered to give us a ride to the bigger market seven kilometers down the road to Inhambane if we needed items we couldn't find in Tofo.  I gratefully took Dominique's phone number, glad to have a local "go to" person.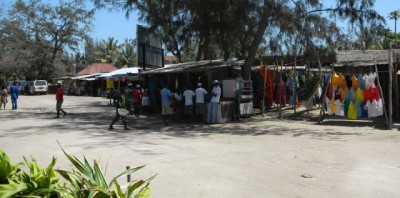 Off we went, happy to be starting our Tofo adventure.  We crossed the beach to dip our feet in to the Indian Ocean for the first time.  The water was clear, cool and comfortable.  Small wooden fishing boats painted in bright reds, blues, and greens, lined a small section of the shore to the south.  We turned north and made our way to the market.  Immediately, the local vendors start calling out to us, coaxing us to come and buy from them.  Young men were selling t-shirts and shorts, beach dresses, bags and wraps, and Mozambique fabrics, flapping in the breeze on clotheslines, making a colorful display.  We beg off and bypass them, looking for food.  First stop is the market ladies selling freshly baked coconut bread, vegetables, and staples.  They smile and laugh, picking up their goods, thrusting them towards us, confidently telling us what to buy and how much.  We are quickly initiated in to the art of haggling.  Mike is pretty good at it and has fun playing the game, teasing them good-heartedly.  We buy fresh lettuce, tomatoes, garlic, potatoes, and breads.  We find another vendor with a refrigerator, to buy butter.  Marion locates a place to buy bottled water, and is such a good negotiator, the lady loses her smile by the end of the exchange.  On we go to find Vincent, recommended by Dominique, to purchase wine.  His is the bright yellow shack, nestled in the middle of a long line of liquor stalls.  We select two bottles of a South African Sauvignon Blanc to go with the seafood we plan to purchase, and a few bottles of the local Mozambique beer.  Now for the seafood.  Young men have coolers and buckets filled with fresh prawns (large shrimp), and crayfish that look like small lobsters. Whole fish are displayed in slabs along crude wooden tables.  We decide on shellfish. Dominique told us a fair price and Mike wheels and deals to get them there.  We grab some charcoal and head back to Casa Algodoal, our home, to start cooking before dark.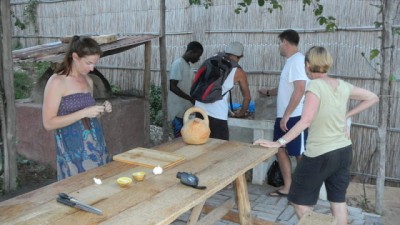 Mike eagerly agreed to be grill master and chef with Betsy as his assistant.  I would be kitchen sous chef, responsible for the veggies.  Marion was the cleaner and gopher.  As Mike starts his work at the outdoor picnic area, Dominique passes by and stops and gives us a lesson on the easiest way to remove the heads and clean the prawns and lobster. Fortunato comes out and pitches in to help us and take away the garbage.  We open beer and wine and toast to our first night in Tofo.  The sun sets and we feast on salad, prawns and lobster grilled in garlic butter, potatoes and coconut bread.  I haven't had seafood in a year and a half.  As I sit at the dining table in our tree house, overlooking the Indian Ocean under star lit skies, I think: life doesn't get any better than this.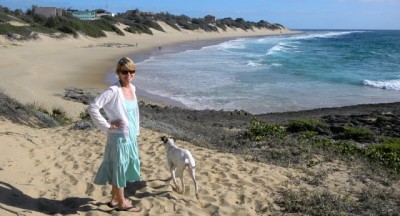 The next morning, Marion and I awake early and head out to walk on the beach.  We head south and watch in fascination as two men get in each small wooden boat, powered by oars and muscular arms, to head out for morning fishing.  They make their way beyond the breaking waves and seem to disappear on the horizon.  We go around the point to another beach called Tofinho and enjoy our leisurely stroll.  Dogs come out to escort us and chase birds along the way.  It is peaceful and beautiful.  After we return, we all decide to take the first day to relax, recover from our travel, let our stomachs get settled (after excessive biltong intake for one of us), and explore.  We repeat our evening shopping and cook seafood together again.
The following morning, after a walk north on the beach, we have scheduled a snorkeling trip with Diversity Scuba.  We meet at the dive shop and find ourselves in a group with other travelers, one young American woman, whose father is an oil executive working in Mozambique; an older couple from Europe of whom the man looks like an gray headed balding version of Mr. Bean in a Speedo; some young women volunteers from Australia, one the size of a small whale; an Italian couple, and a single Portuguese woman.  We get fitted for snorkels and fins, and are given a briefing on swimming with the whale sharks.  The guide cautions us to stay away from the powerful tail and to not touch the shark. Don't touch the shark – I think I can follow that rule.
We then head for the beach.  The entire group helps to push a large raft like boat that has a spotter chair mounted on stilts out into the surf.  The girls climb in followed by the men.  We tuck our feet under a cable along the floor of the boat and hang on to ropes along the gunnels to prevent ourselves from being tossed overboard as we bounce through the waves to open sea.  Thoughts of the our rafting on the Zambezi flash in my memory.  Our guide climbs up the spotter chair.  When he tells us, we don our masks and fins to get ready.  When he spots a whale shark, they will stop the boat, we are to slide over the side in to the water, put our faces looking down and swim in the direction he points.  We stop. In we go.  "Look down" he shouts.  I put my mask in the water and look down to find myself right on top of a massive, white spotted, brown whale shark.  I am on the surface and he is about twenty feet below, seemingly just resting there.  Very cool.  He moves away.  Some people are following him.  The rest of us swim back to the boat and climb back in.  The boat will follow or look for other sharks and give us a second chance.  The next stop I go in and swim in the direction the guide is pointing.  This time I look down to see an enormous horizontal tail fin.  I recall the warning about staying away from the tail and let the creature move away, and head back to the boat with Betsy and Marion.  Mike is a strong swimmer.  He and the Italians and a few others are following the whale shark.  I see Mike dive down, apparently getting right next to the huge fish, swimming beside him.  He resurfaces and follows along.  Mike later told me he broke the rule and touched the whale shark.  What an awesome fun fact Mike can add to his life story.
The boat continued its pursuit.  As I looked back at Marion, I saw that all the color had drained from his face – his hair and skin were now the same shade of whitish gray.  Not a pretty sight.  Seasickness, one of Marion's dreaded concerns.  Betsy and I watched with empathy.  Fortunately, Marion was able to watch the horizon and recover quickly.  We had one more stop, then headed back in.  What an incredible experience, snorkeling with the whale sharks.  I later decided that large fin I saw must have been attached to a humpback whale, since the whale shark fin is vertical.  Who knows????  We walked up the beach to Dino's, a local bar and restaurant for a late lunch of Greek salad, pizza and beer.  We even shared chocolate cake for dessert.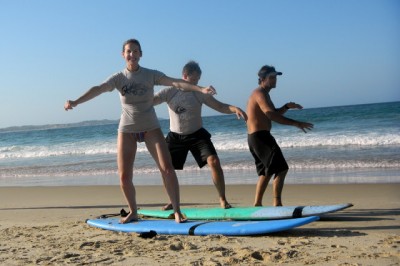 The next day Betsy and Mike took surfing lessons from Dominique.  Marion and I watched from the beach and took photos, vicariously enjoying their challenge of trying to glide on top of a wave while standing up on a board.  It must be more difficult than it looks. That night we gave Mike the night off and went to a nice restaurant in Tofo called Casa de Comer.  Mike is a better chef, but we enjoyed our meal just the same.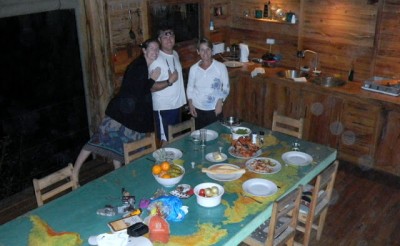 The day after that Betsy and Mike decided to go deep sea fishing.  Marion opted out, not wanting to repeat his seasickness episode, and I stayed behind to keep him company.  We did meet two interesting women from Montana who went fishing with them.  One was a teacher at a private school for girls.  Every year she accompanies teenage students to study abroad in southern Africa.  Sounds like a pretty nice job to me.  Marion and I enjoyed the beach and swimming.  We to the market and did some shopping for t-shirts and shorts, fresh cashews, and ice cream.  Unfortunately, Mike and Betsy came back empty handed from fishing, and we had to trek to the market to purchase fish for dinner.  They did however, see whales and large sea turtles and a manta ray.  At night, Mike taught us to play Eucher and we played cards and drank wine and enjoyed each other's company.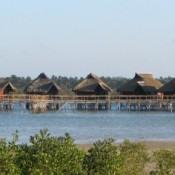 On our last afternoon, we rented quad bikes.  I knew if we went north, we could get to an area called Flamingo Bay.  Flamingo Bay has one of those exclusive romantic resorts with tiki huts that house luxury hotel rooms on stilts out over the water.  Betsy and I wanted to see that.  We asked Pedro, the guide and he was happy to take us there and agreed we could stop and have a cocktail.  We headed off in a line, following Pedro, putting along at a brisk pace. We left the outskirts of Tofo and drove on sandy paths under towering coconut trees.  We began to pass small settlements of palm thatch huts.  Children would run out to the path to wave and get passing hand pats.  They even ambushed Mike, trying to get a ride.  As a Peace Corps volunteer, I was wondering: Where are the pit latrines?  Where do they get water?  Where are the shops and street ladies selling vegetables?  If I lived here, what would it be like?  Definitely more primitive than Botswana. 
We emerged in an area called Barra Beach and motored on past dive resorts and private homes on remote unspoiled beaches.  We followed Pedro to Flamingo Bay, parked our bikes and walked a long wooden boardwalk out to the resort.  We entered a beautiful reception area with bar and restaurant.  Out back was a swimming pool surrounded by tables and greenery.  From there the boardwalk continued out over the bay towards numerous elevated tiki huts.  This was a special place for lovers to relax and be together.  We skipped the cocktail and opted to stop at Barra Resort instead for a quick beer.  There is something incredibly fun about riding quad bikes. Kind of like roller skating as an adult, it makes you feel like a kid again and you just can't help smiling and laughing at yourself while on one.  We raced back to Tofo for our final night together. Another great meal at home prepared by Mike et al, with wine and cards and small talk.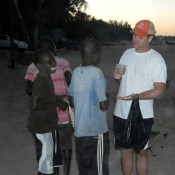 The best part of the trip for me was spending time with Betsy and Mike.  I got to see them as a couple, the way they lean in to one another and share private moments with quiet laughter, the way they work together at meal time, the way they support one another in sharing new experiences.  I got to know Mike better, to see his fun loving adventurous side, his generous nature, his love of cooking and serving others.  I love his mischievous ways, evidenced in his haggling with George, one of the pre-teen boys on the beach selling jewelry.  I can see why Betsy and Mike are together and it is satisfying to me, to see them content in their relationship.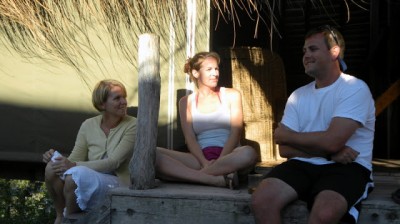 Betsy and I also got some much needed mother daughter time.  Time to talk about life, friends, career, relationships, and the future.  I can see that she has grown and matured and changed while I have been in Botswana.  I naively thought I wasn't missing much at home.  But I can see I have.  And for the first time, I have become homesick.  She tells me she supports what I am doing and encourages me to finish strong.  I'm going to do my best to make her proud.
You can see more pictures from the trip in our photo album