Since Marion wrote about David and Maria's visit, he asked me to write the blog post about our travels with Betsy and Mike.  So here goes.  I won't just be writing about the places we went and the things we experienced, because for me it was all about being with my daughter, who I hadn't seen in a year and a half.  It was about getting to know Mike, the man she has chosen as her partner in life.  And it was about sharing a once-in-a-lifetime trip together and creating an amazing memory I will cherish for the rest of my life.
Marion planned most of the trip with David and Maria, and it fell on me to plan Betsy and Mike's.  Being the Botswana travel agent is a challenge.  Making reservations is a challenge.  You are affected by power outages, slow internet connections, or the internet just plain not working at times.  That goes not only for me, but for the people on the receiving end as well.  So the turnaround time on an inquiry can take days.  Completing a reservation can take a week or more.  Then you have to figure out how to send a deposit.  Not every place takes VISA, and if they do, there may be a hefty surcharge.  Sometimes you have to transfer money into their bank account, all the while calculating exchange rates.  Some just ask you to pay cash in the local currency when you arrive.  I spent a lot of time praying that things turned out the way we had planned, and in the end, just had to trust that my choices didn't end up being a major disappointment.
I decided that I would have fun showing Betsy and Mike a variety of ways to travel.  I planned some cheapo travel, the Peace Corps Volunteer way, and planned some the luxurious American tourist way. Luxurious is a relative term mind you, when you live in rural Botswana. They said they were game for this, bought or borrowed backpacks, and came ready to embrace the journey.
They landed in Johannesburg, but went south and visited Cape Town for a few days before coming to Botswana.  They will have to tell you about that part of the trip.  Marion and I chose not to go with them to Cape Town, as we had traveled to Cape Town  in March, and wanted to save some pula for the rest of the trip.
Betsy and Mike arrived on a Tuesday.  We had arranged for an acquaintance in Mochudi to drive us to the airport to pick them up and bring them back home.  This is a splurge for us, as we normally take the bus or hitchhike to Gabs. The plane was late.  My mom's heart was racing in anticipation of seeing my girl. Finally a South African Airlines jet taxied in.  Marion and I stood by the window to watch as passengers came down the airplane steps onto the concrete walkway.  Through the window, we spotted
Betsy and Mike and gave a wave as they walked past, headed to the immigration area of the airport.  A short eternity later, they emerged from immigration.  My sweet Betsy P. was finally here, coming home to me.
First stop, Mochudi…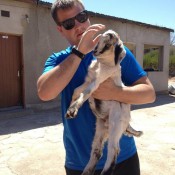 Mochudi is home to us and we see it as "normal".  I wondered what Betsy and Mike would see with their "fresh eyes".  Would they see our cute little Mochudi house with the same affection I have, or would they focus on the dirt yard, the cracks in the walls, the unfinished bathroom with no tile around the tub, and the tired, worn out government furniture that fills our sitting room.
They were curious about the pit latrine, the skull under the tree outside my kitchen window, and the view of the neighborhood.  We took a walk to the shops, pointing out the post office, the shoe repair man, the ATM, the library, the government offices, and our grocery stores.  We visited the bottle shop (liquor store) to buy local beer and bought an ice pop from a street vendor.  We talked about the trash everywhere and the interesting way people dress.  They gaped at women carrying stuff on their heads and babies on their backs.  We came home and relaxed and talked for hours.  I served them a traditional meal of ditloo, a mixture of samp and beans that my host mom taught me how to cook.  I went to bed content.  I was with my daughter.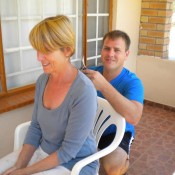 The next day we slept in.  I made maize meal pancakes for breakfast, reenacting the family tradition of pancakes for Betsy whenever she comes home.  I asked for a volunteer to cut my hair.  Betsy declined, not wanting to take responsibility for my appearance.  But Mike took on the challenge. Betsy marveled that I would let Mike cut my hair, when the one thing I unashamedly spent money on in the US was a "good haircut".  Mike did a great job of shaping up my attempt at a short bob.  I felt like a new woman, ready for adventure.  A baby goat passed through the yard and we spent time playing with it.  Our visitors are always interested in the goats, chickens, cows and donkeys passing by.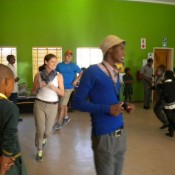 We made the rounds of our workplaces, first stopping by the DAC Office where Marion works.  In the afternoon, we went to Stepping Stones International.  I wanted them to meet the kids and the special people I work with.  I timed it so we could participate in the icebreakers after study time, where the kids have fun with a few short games.  Betsy and Mike were introduced and the kids pulled them in to the games, and they willingly join in.  I hoped they could see the potential in these teenagers, in their welcoming faces, their tattered school uniforms, and radiant smiles. I hoped they would see the passion for the Stepping Stones youth from Thato, the young man, who is my work partner.  I hoped Betsy would see something that makes her understand why I have chosen to be here.
We headed home and made spaghetti for dinner and Rice Krispy treats for dessert.  Betsy had brought marshmallows from the US, a much appreciated gift.  Comfort food is so…. comforting.  Again we had time to talk and talk and talk.  The next day the real adventure would start.
On to Victoria Falls…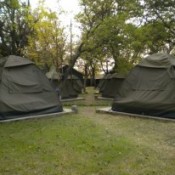 Early Thursday morning, we headed back to the airport in Gabs and caught a flight to Kasane, via Maun.  In Kasane, we took a taxi to the Botswana-Zimbabwe border and met up with our pre-arranged transport to the town of Vic Falls.  Yay, transport showed up as planned!  In Victoria Falls we stayed at Vic Falls Rest Camp, an inexpensive, backpacker-type lodge.  We slept in tents that included beds with linens, but required using a bathhouse for toilets and showers.  The bathhouse was functional, reasonably clean and had abundant toilet paper. Yay, again!  There was a pool, and the Inda Belly restaurant and bar on site, providing a space to hang out.  It was centrally located in town for easy walking to local sites.  Peace Corps travel experience — check.  We dropped our backpacks and headed out for our first adventure.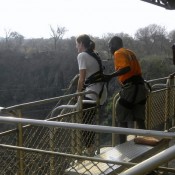 Betsy and Mike wanted to bungee jump, so we went there first thing.  If you are going to bungee jump, best to do it some place memorably exotic, like over the Zambezi River in Africa.  Like David, Maria and Marion on our earlier trip, they chose the package that included a bungee jump, a gorge swing, and a zip line across the gorge, from the Zambia side to Zimbabwe.  Zip line for both first, piece of cake.  Bungee jump for Mike next, no problem.  Betsy's turn with the gorge swing.  After getting strapped to the swing cables, the crew eased her toward the platform edge.  I could see her entire body shaking, and had to stop myself from yelling, "You don't have to do this", as she took the plunge downward.  I have a fear of heights and would never even consider this stuff.  Mike then did his gorge swing.  Betsy's turn to do the bungee jump was next; she opted out, she had had enough adrenaline for one day.  Smart girl — know yourself and stop when it's best for you.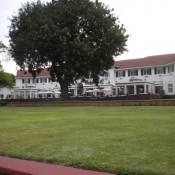 After finishing up by watching the videos of the bridge activities to relive the madness, we headed off to the beautiful Victoria Falls Hotel for a beer to celebrate and help calm the nerves.  To get there we walked a dusty road from the bridge, turned left and followed a dirt path through the bush.  Suddenly we emerged on the beautiful green manicured lawn of the hotel, an elegant historic site that makes you think you have time traveled to the 1920's.  Wart hogs grazed lazily on the grass. The dark skinned Zimbabwean staff were dressed in white African attire.  We sat on the terrace with a grand view of the bridge and were served cocktails.  We stayed until the sun set enjoying each other, and the elegance of the hotel, each secretly dreading going back to our hot tent at the Rest Camp for the night.  We stopped at Mama Africa for a traditional meal with traditional dancers before zipping in to our tents to sleep with the mosquitoes.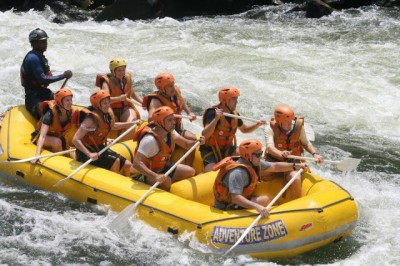 Next morning, we were up by 6:30 to raft the mighty Zambezi River which is the border between Zimbabwe and Zambia.  The Zambezi River raft trip goes over 19 rapids in the 30 kilometers we will travel before lunch, the majority of which are class 5.  I had booked the trip with Adventure Zone, and prayed that this outfitter knows what the hell they are doing.  After a safety briefing and signing one of those forms that says you won't blame them if you die, we loaded into a truck and headed to the river.  We donned life jackets and helmets, picked up a paddle and climbed the 130 meters (400 feet) down into the gorge to the water.  We started just below Victoria Falls, and could hear the roar of the falls in the distance.  Each raft holds eight people plus the guide.  We four shared a raft with three guys and a girl from Spain.  Our guide's name was Simon, a muscular black dude with short, spikey braids and a mischievous demeanor.  We entered the river in a calm spot for paddle practice and to learn the commands Simon would yell as we navigate the rapids.  "DOWN" means pull in your paddle, get your butt on the raft floor, grab the rope along the gunnel and hold on for dear life. He directed Marion and Mike to the front of the raft, wanting strong men who clearly understand English in those key spots.  I chuckled to myself knowing they would take a lot of water in the face (and they did).  Betsy and I took spots on one side, she next to Simon in the back and I was just in front of her.
And off we went.  The Zambezi River is a place of amazing, natural beauty.  The river snakes its way between towering rock cliffs, a majestic green path through a crack in the earth.  We passed families of baboons playing on the rocks and watched huge powerful birds fly overhead.  It is incredibly peaceful on the calm spots between the rapids.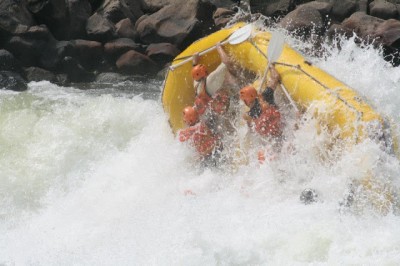 But the rapids were what we came for.  As we drifted toward each patch of white water, Simon told us the name of the rapid, whether it is class 3, 4 or 5, and mapped out how we would pass through.  Before each class 5, Simon went around the boat and tightened each of our life jacket straps.  We paddled well as a team, and enjoyed the rush of the raft plunging down, bouncing up, and the water crashing over us.  We celebrated each safe passage with a high five of paddles, no one washed overboard and the raft was still right side up.  The Spaniards chattered away, and even though I don't understand their language, I understood their exchange, the shared exhilaration.  We had safely made it through rapids 1 through 8.  That wasn't so tough, I thought, I can do you, Zambezi.  We had to stop, get out of the raft and walk past rapid 9.  It is huge, with a roaring drop of several meters, and considered too dangerous for amateurs.  Simon took the raft through alone and we met him on the other side to start the second half of our trip.
We continued on, confident in our superb rafting ability.  As we are approached a Class 5 rapid Simon told us there was a possibility we would flip.  He tightened our life jackets once again, and reminded us about "DOWN."  We paddled with a vengeance in to the white water, determined to conquer it. "DOWN" he roars.  I don't think my bottom hit the floor before I found myself swirling under water, disoriented, struggling to figure out which way is up.  Simon told us in the safety talk, "If you go overboard, start counting.  You will rise to the top by the time you get to three.  If you don't, keep counting, he laughed, hopefully you will get there by six."  One, two, three.  Where is the top?  Am I going to drown? Four, five, and finally I popped through violent bubbles to the surface – air, gasp, sputter, cough.  I found myself in the middle of rushing white water and immediately was pushed back under by something – the raft, a person, who knows what.   I restarted the count – one, two, three.  Gasp, sputter, cough.  Repeat.  I reminded myself of Simon's instructions:  get on your back, arms to chest, feet up, as I continued to shoot through the rapid.  I looked up to see the raft upside down with Simon and Mike standing on top.  Mike called to me and waved as the river took me rapidly downstream where the rescue boat pulled me out.  Betsy came our way next and the guides pulled her in.  We searched the river to make sure all our crew was accounted for.  There were two other rafts on the trip, plus the rescue boat and guides in small kayaks who picked up "swimmers".  Somehow, now our raft was right side up, and Simon was picking up each of us.  We crossed over to our raft on shaky legs.  Everyone was talking at once, reliving their near death experience.  But the conversation didn't last long, the next rapid was approaching.
Simon reassured us the next one is a class 3.  We maneuvered it like pros.  High five with the paddles.  We then had a stretch of calm water and floated lazily downstream, resting and enjoying the beauty of the gorge.  After passing through another couple of easy rapids, Simon started his spiel for the next one.  We had a choice.  If we went left, there would be a 99% chance we would flip.  If we went right, there would be a 1% chance we will flip.  If we went down the middle, the odds would be 50-50.  One of the Spaniards translated for the others.  We exchanged smiles of reluctant bravery, anxiety, and knowing laughter.  50-50 was our decision.  Simon directed us to paddle faster and meet the white water head on.  We hit the rapid, "DOWN", he calls.  The front of the raft crashed in to the turbulent water and the raft bent in the middle then popped up.  A three foot wave of incoming water immediately swept Betsy and me overboard.  One, two, and this time, up by three, I saw the overturned raft.  I got on my back and started floating.  I made my way to a rescue kayak for a ride to safety.  The crew reassembled once again in our raft and on we went.  Betsy, sitting next to Simon, quietly said to him, "I don't think you went down the middle.  I think you went left."  He raised his eyebrows, smiled that mischievous grin, laughed, turned away, and dipped his paddle in the mighty Zambezi.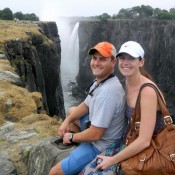 We finished the last few rapids without incident and reluctantly paddled the rafts to shore.  When we entered the gorge we had to climb down 400 feet to the water.  Coming out we had to climb about the height of a 70 story building (750 feet) straight up to get out of the gorge.  I quickly found that my cardiovascular fitness is non-existent.  There are no hills in Botswana.  I can walk miles without hesitation on a flat surface, but this was a killer.  Another older women and I were the last stragglers to the top.  On top we found lunch, and drinks, and our exhausted fellow rafters waiting for us.  We finished an incredible experience, and the day was only half over.
The truck took us back to town.  We headed to Victoria Falls Park for Mike and Betsy to view the falls.  Even when your child is nearly 30, it is a delight to see the look on her face when she experiences something incredible for the first time.  We walked the path along the falls and took photo after photo.  We watched a group of crazy people on the Zambia side, jumping into the "Devil's Pool", at the edge of the top of the falls.  I could barely watch.  I thank God we were short on time and leaving in the morning because Mike had wanted to take the Devil's Pool plunge.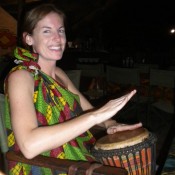 Our last night in Vic Falls, we went to dinner at the Boma, a touristy cultural experience of wild game and assorted African dishes.  We watched traditional dancers, learned African drumming, and at least one of us, the one with happy feet, joined in the dancing.  We slept one more night in our tents with the mosquitos.  The next morning we were up early again.  We were heading back to Botswana, for a short safari adventure.
You can see more pictures from the trip in our Photo Album
Next stop, Chobe National Park…
Stay tuned for the next leg of our adventures with Betsy and Mike.