Lately there has been a rash of scary incidents… including one of our own.
A German volunteer who works with Tish at Stepping Stones was mugged in Johannesburg. He was approached from behind by someone who threw their arm around his neck.  He was threatened and then robbed.  Fortunately, he was unhurt but they got his money and cell phone.
In Gaborone, a female Peace Corps volunteer was attacked only blocks from the Game City Mall by several muggers.  The Volunteer fought back, screaming and struggling, and attempting to scratch out the eyes of the muggers.  The victim must have been too much for them to handle as they dropped her and ran.  (Knowing Shannon, this does not surprise me in the least.)
In Kanye a few months ago two volunteers were mugged.  The attack was more violent than usual for Botswana.  One of the volunteers, a small young lady had her front teeth knocked out by the mugger.
These things happen from time to time (even in America), but they always happen to someone else, and we have started feeling complacent.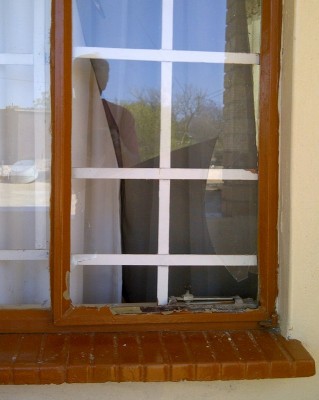 We just had an incident of our own.  We had spent Saturday night with friends in Gaborone and when we returned Sunday we discovered that one of our windows was broken.  I inspected the rest of the house and there were no other problems, and no one made it inside the house.  It appears that someone had picked up a rock from the yard and broke the window.  Then they pulled the larger pieces of glass out of the frame and dropped them alongside the house with the rock.  They could not get inside the house because of the burglar bars, and did not try to break those.  Instead, they reached into the window as far as their arms could go, to get whatever they could find.  In the process they knocked over and broke a lamp.  Then they must have carefully set the lamp back on the small table before withdrawing their arm and leaving empty-handed.
I called Thuso, the Peace Corps security officer.  At his urging I also called the local police, who came and investigated.  Hopefully Agnes will fix the window soon.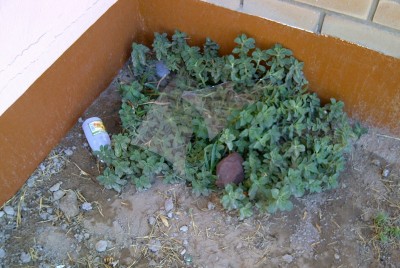 Oddly they did not take two small computer speakers that were sitting on the same table as the lamp.  I have a suspicion that they were after something in particular and did not care about the lamp or speakers.  Anyone who has been in our house or seen in a window has probably noticed me sitting by that small table which holds the speakers and lamp.  That is where I use my laptop computer most of the time, and often when I am not using ithe laptop I leave it on the table, or in a shelf below the table.  Also, I have an iPod (thanks David) that usually is sitting on top of the small table most of the time right next to the speakers.  I can't help but wonder if the thief was after my laptop and the iPod. Luckily, neither item was there for them to take.  When we go out of town we either have our laptops with us or move them to a more secure place, but if the burglar had hit any other night they would have been successful.
So now I am sitting by the broken window, typing this post, and thinking about the attempted robbery.  Was it someone who knows us?  Was it a friend of someone who knows us? We share the compound with our landlord, Agnes.  Her house is just a few feet away from ours and the closeness of another house has always made us feel more secure.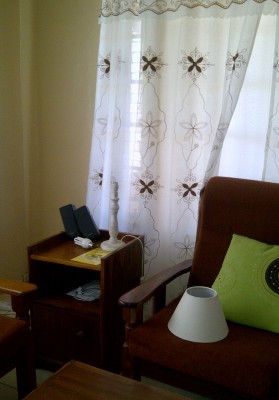 A few months ago Agnes took a job in Gabs and sleeps there every night. This means her house is either empty or just her grown son Tshepong is there.  Tshepong seems to be a nice young man, but has had several run-ins with the law.  Shortly after we moved in last year he had to spend a few months in prison for breaking into a business.
While Agnes has been away in Gabs the house became a gathering place for Tshepong's friends who played really loud music and got drunk.  The gatherings became larger, louder and more raucous every week.  At one point the police had to come here and Tshepong was taken away in handcuffs.  Things quieted down after that.  Agnes is still away in Gabs, but Tshepong has toned down the loud parties somewhat, but there are still too many strangers around to my liking.  Unfortunately every one who was drinking at any of Tshepong's parties is now well aware of the Makgoa (white people) who live next to Tshepong.  So much for keeping a low profile.
Just when I had started feeling safe and secure this happens.  Now, I am troubled with the thought that there is someone out there who wants my stuff.  Someone wants it bad enough to pick up a rock, break a window and try to steal it from me.  I am troubled that it could even be someone I know or a friend of someone I know.  I am troubled.