Continuing from the last blog entry, "Vacation with David and Maria – On Safari", we pick up where we left off…
Leaving the animals of our safari behind, we drove to Kasane where we dropped off Bonne and Dandy.  Then it was on to the Zimbabwe border.  Lucky continued in the role of guide and escorted us to the correct lines at the Botswana and Zimbabwe border checkpoints where we each got our Zimbabwe visas ($30 each).  Lucky left his vehicle behind and arranged for us to be transported on the Zimbabwe side by a friend of his named Innocent.  Once past the border, Lucky introduced us to Innocent and his very comfortable SUV.  We were out of the open air truck for the first time in a week and the air conditioning felt nice.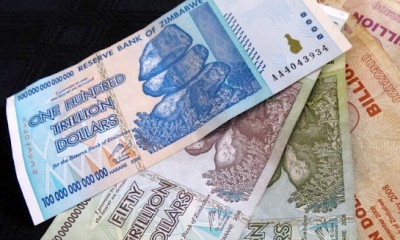 Innocent drove us the 80 Kilometers to the city of Victoria Falls.  He is from Zimbabwe and answered all of our questions about Zimbabwe, their political situation (grim), and their economic situation (grim but improving).  I was aware that a few years ago they experienced a hyperinflation not seen since Germany in the early 20's.  Per Wikipedia, at it's peak, Zimbabwe's inflation was estimated at 6.5 sextillion percent in mid-November 2008.  They abandoned their own currency altogether in 2009, and use other currencies.  Innocent told us that at the peak of the inflation one loaf of bread cost 50 billion dollars.  I bought some of these old Zimbabwean bank notes.  The largest denomination I found was 100 trillion dollars.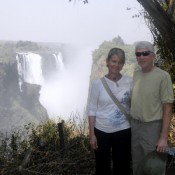 I didn't have far to go to find the bank notes.  Zimbabwe has fallen on hard economic times and the Zimbabwean people in Vic Falls try to survive by selling to tourists.  Quite a few are selling the bank notes.  Even though it is against the law, wherever you are someone is coming up to you trying to sell something.  It is interesting at first but feels obnoxious after awhile.  Our instinct is to answer politely when someone talks to us, but the only way to get from place to place was to pointedly ignore these people and it didn't make me feel very nice.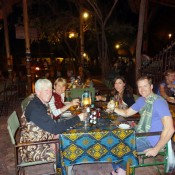 Our main purpose for being there was to see the world famous Victoria Falls, so after checking into our hotel, Innocent drove us there.  It cost $30 to enter the Victoria Falls viewing area, and it was worth every penny.  The falls are over a mile in width and over 300 feet in height — spectacular.  We saw the falls in what is dry season, water pours over the top of the fall but there are gaps.  In rainy season when the river is full the entire width has water pouring over the top, but you can't see it because of the huge cloud of mist that is created. We walked the length of the falls taking many pictures and enjoying the change in the vegetation from scrub-land to rainforest as you walk in areas that are constantly rained on by the mist of the falls.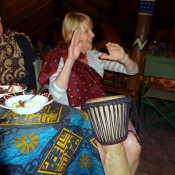 That night we ate at The Boma, a restaurant that offers traditional game meats and entertainment.  It was a lot of fun.  I had wart hog and it was delicious.  David had some crocodile and Maria ate another Maphane worm.
In the morning we had planned to do a whitewater rafting trip on the Zambezi, but after some conversation, realized that none of us really cared to do it.  David wanted to do a bungee jump from the bridge over the Zambezi.  David wanted all of us to do it, and we agreed — all except for Tish.  Each of us actually ended up doing three things — a zip line over the gorge, a swing out over the gorge, and the bungee jump.  Being a skydiver I am pretty ok with jumping off of things as long as I trust the gear, but I wasn't sure how my 61 year  old body would feel after plunging 111 meters and being stopped abruptly upside down by the cable strapped to my legs — against my better judgement I agreed to do it.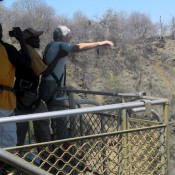 We all three made the jump, enjoyed the experience, and were really glad it was over and was behind us.  We had all done a bungee jump now, and what could be cooler than to have done it over the crocodile-infested Zambezi river on the border of Zimbabwe and Zambia.  We all survived and had worked up an appetite so we walked about a mile to the Victoria Falls Hotel for lunch.  Built in 1905, the hotel is an old and elegant structure (like me).  We enjoyed a lunch there sitting on the porch enjoying the view of the grounds and the bridge in the distance, hey we just jumped off of that thing.  Then it was time for Innocent to take us to the Vic Falls airport, but first we had to say goodbye to Lucky.  By this time, Lucky was more than a guide, he was a friend, and we will miss him.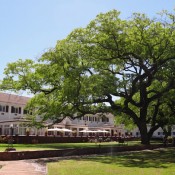 We had seen Victoria Falls and it was time to move on.  Our final destination for this vacation was Namibia.  We flew from Vic Falls to the Windhoek airport where we picked up a comically small rental car (David called it the "clown car") and drove to a guest house for an overnight stay in Windhoek.  The next morning we squeezed into the clown car and drove the four hours to Swakopmund.
Namibia used to be a German colony and the German influence is everywhere.   German tourists are everywhere, all the street names are German, the place is as clean and runs as efficiently as German engineering.  To be honest Windhoek and Swakopmund do not feel like Africa, they feel more like, well, Germany.  Not that there is anything wrong with that.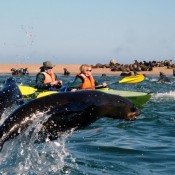 There were definitely some fun things to do in Swakopmund.  On the morning of our first full day we took a Kayaking tour of Pelican Point where we were able to kayak with playful dolphins and seals.  The seal population there is estimated at well over 30,000.  On the way to Pelican Point we passed a desert area where they happen to be filming a remake of the Mad Max movie starring Charlize Theron.  We saw several of the vehicles that are being used in the filming of the movie.  The actors are all living in Swakopmund and we saw some of them from time to time.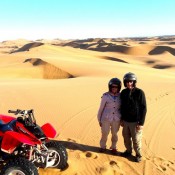 That afternoon we went quad biking on the dunes which was a ton of fun and gave David (who races motorcycles) a much needed dose of motorized excitement.  The next morning Tish and I went on a desert wildlife tour that we really enjoyed.  It was called Tommy's Tours and as pretty as the dunes are, what is living beneath them is just as interesting.  Tommy would drive slowly over the dunes, spot something only he could see, jump out of his vehicle and dig something amazing out of the sand.  On Tommy's Tour, we saw four of what is called "the Little Five".  We saw the White Dancing Lady spider also called the wheel spider because it rolls down the side of the dune to escape its enemies; the Shovel Snouted Lizard; the Palmato Gecko and most interesting was the Desert Chameleon.  The one we did not see was the desert sidewinder snake.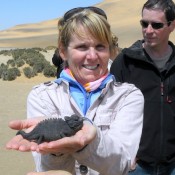 Namibia was nice.  When we left Mochudi we didn't even have water so we were really appreciating the wonderful clean rooms and hot showers.  After a nice final dinner in Swakopmund we began to end the vacation.  We all left the following morning for Windhoek where David and Maria spent the night and left the next morning to catch their flight to Johannesburg and on to America.  Tish and I left a day later.
It was the longest vacation I have ever taken.  We had all been together for 16 days in  Mochudi — Maun — Safari in the Okavanga Delta — Vic Falls – Namibia.  It was a great vacation, but the best part was seeing David and Maria.  I felt pretty emotional when we parted company.
Our return to our little house in Mochudi was uneventful and we were happy to find the water was working!
You can see more pictures from the trip in our Photo Album