My son and his wife came to visit us.  This is the most important thing to know… just that they were here with us again.  I could hear my son's voice, pat him on the back and look into his face.  All the other fun stuff we did together was just icing on the cake.  I shed a few tears when I met them at the airport in Gaborone and also when saying goodbye to them in Windhoek, Namibia.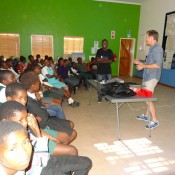 We had wanted to use the first three days of their trip to teach them about our lives here in Botswana.  We introduced them to our neighbors.  David and Maria loved the baby goats that happened to be next door.  We walked with them to "downtown" Mochudi to see where we shop, where we get our mail, where I teach at the library, etc.   The Phuthadikobo Museum is located a the top of a large hill near the main kgotla in Mochudi.  we took them there to see relics, documents and photographs showing the history of Mochudi and the Bakgatla tribe.  I also took David to my office to meet some of my co-workers at the office of the District AIDS Coordinator (DAC), and see where I work.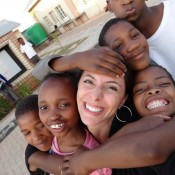 David and Maria also visited Stepping Stones International where Tish had made arrangements for David to give a brief presentation to the kids.  The kids loved David and Maria.  The last full day in Mochudi, we hopped on a bus in the morning and went to Gaborone where we looked at the things for sale in the "Main Mall" and treated them to a typical Botswana lunch, we also went to the Botswana National Museum.  They got to travel the way we do as well, walking, using combis and navigating the hectic bus rank to catch the bus back to Mochudi.
They got more than they bargained for I think.  We had several short power outages while here, and also the water was out for their entire stay.  Fortunately we had some water in storage that we managed to get by on.  They got to see what it is like to use a pit latrine, and take a "bucket bath" with very little cold water.  They were good sports and seemed to enjoy it all.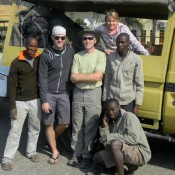 We left for the safari portion of our trip a few days later.  We locked up the house and got a ride to the airport in Gaborone where we boarded a plane and flew to the village of Maun.  I had arranged a seven day safari adventure and we were to meet up with our guide, Lucky.  Lucky Mokgowe is a citizen of Botswana who has been working in the safari and tour guiding business for years.  Through word of mouth, and also because he does a great job at a great price, Lucky has taken a lot of Peace Corps Volunteers all over Botswana.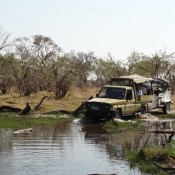 Lucky was our guide and host.  He also brought along a chef named Dandy, and a camp helper named Bonne.  For the next week on safari we camped, but it was the best type of camping.  Lucky and crew did everything for us and in general made life easy.  We slept in good size tents on cots with bedding.  Dandy provided three delicious meals a day plus we had "tea and biscuits" during the day.  We ate meals on a table with a table cloth under an awning on china.  The dinner meals featured an appetizer, a main course, a dessert and we even were served wine.  During the week we even were able to take showers in a clever tent-like shower that had warm water suspended in a container above it.  We traveled in Lucky's safari vehicle and towed a trailer.  I had asked Lucky if we could just limit the safari to the four of us and that is what we did, so it was our own private safari trip.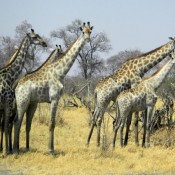 I think everyone would agree that the safari part of the trip was the most fun.  Camping under the stars in Africa, surrounded by wild animals is pretty unique.  The weather was perfect, cool at night and in the morning making sleep easy.  It was warm enough during the day for shorts; but not unbearably hot as it will get soon enough here in Botswana.  We visited three different game reserve sites and typically would do a game drive in the morning and in the evening.
During our travels the three reserves we visited were:  Moremi, Savuti and Chobe.  To get to any of these places took hours of driving on single lane dirt (sand) roads.  Sometimes hours would go by without seeing another vehicle.  This was part of the adventure.  One time the trailer had a flat tire which required a visit to a nearby village and the assistance of some very nice men who managed to pry the tire off the truck spare and put it on the trailer wheel.  One day we had to get out of the vehicle and walk beside it so it could make it up a particularly steep sandy portion.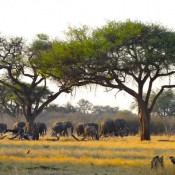 Moremi was our first stop.  We were camped about one kilometer from the river next to a huge plain.  Before the sun went down we witnessed a large herd of elephants walking by.  Around bed time we heard the sound of hoofs as a herd of zebras ran by being chased by either a lion or hyena.  During the morning and evening game drives at all of the game reserves we would see wildebeast, cape buffalo, sable antelope, impala, kudu, elephants, giraffes, zebra, hippos, honey badgers, waterbock, baboons, monkeys, wart hogs, and many strange and colorful birds.
The highlight in Moremi was seeing a leopard, which are shy creatures and hard to spot.  Lucky had been tipped off by another guide that a leopard was nearby.  As we drove, Lucky would lean out of the vehicle, scanning the ground for animal tracks.  Spotting leopard tracks he turned into the bush.  We were only about 10 meters from the path when Tish whispered, "There he is."   He was beautiful.  The leopard was relaxing on a tree limb almost at our eye level about three meters away.  He lay there for awhile, looked around from time to time, and then yawned and stretched, climbed down from the tree and walked slowly away.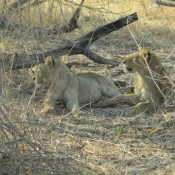 We also saw a family of lions on our last morning at Moremi.  There were about eight of them.  They had killed an impala the night before and had eaten.  We were within ten meters of the group that was lounging beneath a large bush.  One lion was casually gnawing on the leg of the impala while the rest dozed in the morning sun oblivious to the tourists gawking at them from the truck.  We didn't see any male lions with big manes here, but we did see that on our last day in Chobe.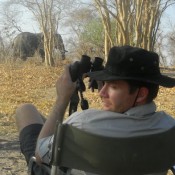 Savuti was the second stop.  We had a beautiful camp site right on the river.  Not five minutes after we had arrived a large elephant crossed the river and walked right behind our campsite.  We could sit in our camp site and see animals.  We watched giraffe and kudus wander by on the other bank of the river.  On our side of the river about 200 meters downstream David spotted two lions come out of the bush and went down to get a drink.  That night Lucky advised us to sleep with the flaps over our tent windows since so many lions were around.  At 2 am we were awakened by the roar of a lion which was followed shortly by the trumpeting of an angry elephant.  The rest of the night we could hear the lions nearby.  The sound of a lion roaring outside of your canvas tent is unnerving.  I will never forget it.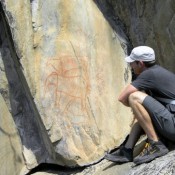 During the next morning game drive we took a little time out from game to see a 1,700 year old Baobob tree, and some rock paintings that were over 1,000 years old.
On the days we weren't traveling between camps we spent the afternoons hanging around the camp eating snacks provided by Dandy, talking, relaxing, reading, playing scrabble, and listening to music on David's Ipod.  The evenings were spent underneath a breathtaking canopy of stars.

The last game reserve we camped in was Chobe.  Along the Chobe river we saw the same animals, but the number was greater.  There was a huge plain along the river that we could see below us as we drove down from our camp site.  There were thousands of elephants, buffalo, impala and other animals out there.  That was an amazing sight, and the highlight of Chobe for me.
When we would go on game drives we were in the open sided truck in elevated seats with nothing obstructing our view.  We were often just a few meters from animals in their natural habitat.  Animals that we had only seen in zoos before.  The closeness of the animals was surprising.  For example, the day we arrived in Savuti we turned a corner in some tall bush and surprised a herd of giraffes.  They all went running in different directions and one huge giraffe ran parallel to us, running alongside our truck for what seemed like forever.  He was so huge it looked like he was running in slow motion, and I could have almost reached out and touched it.  Being that close to this huge exotic animal, was memorable, and equally wonderful was to glance around and see the delight on my family's faces.
There is a name for the most desirable animals to see in Africa.  They are called "The Big Five".  The big five are Rhino, Elephant, Leopard, Lion and Buffalo.  Tish and I had already seen Rhino on our trip to the Khama Rhino Sanctuary, after this safari we have now seen all five !
The safari had to end sometime, and that was after seeing Chobe.  We were done camping.  We said our goodbyes to Bonne and Dandy and continued on with Lucky to the next part of our vacation — Victoria Falls.   More on that in the next blog entry.
You can see more pictures from the trip in our Photo Album