The Peace Corps' mission has three simple goals:
Helping the people of interested countries in meeting their need for trained men and women.
Helping promote a better understanding of Americans on the part of the peoples served.
Helping promote a better understanding of other peoples on the part of Americans.
Writing about our experiences in this blog helps fulfill the Third Goal of the Peace Corps which is to help Americans understand the people and cultures of Botswana.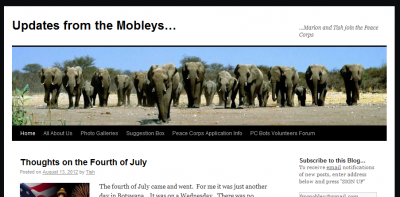 Many of you have returned to read our blog posts since our Peace Corps adventure began, and we hope you enjoyed them.  Publishing the blog has been an educational experience for us.   I found the technical aspect to be interesting and not too difficult since my career was in IT and I am comfortable in that world.  The writing is more challenging.  Tish and I have tried to keep the blog posts interesting.  As we experience life here in Africa we are always thinking, "Would anyone be interested in that, would it make a good blog post?" 
Before Tish and I applied for the Peace Corps neither of us had ever published a blog and I suspect many of you have never published one either.  Many people DO publish blogs though.  In fact, according to Wikipedia, "As of 16 February 2011, there were over 156 million public blogs in existence."  156,000,000!  
Many of the those millions of blogs are, like ours, intended for friends and family to share an adventure.  Some are commercial.  Based on number of "hits" the most popular blog is Huffington Post.   According to a web sites that give stats on the most popular blogs, Huffington Post is in the top position and has 54,000,000 visitors per month, and from their ad revenue they bring in over $2,000,000 per month.  In fact the owner recently sold her site for over 300 million dollars.  We are not in that league obviously and don't make any money from our web site… I wish.
I thought some of our readers might be interested in knowing who, beside them, are reading our web site.  We have some statistics available on our blog from Google Analytics.  This is a free service offered by Google to keep detailed statistics about visitors to the website.  Out of curiosity, I started using Google Analytics on August 1, 2011 — just over a year ago.  In this post, since we now have over a full year of statistics, I will share some of the information with you, in case you may be curious about who else visits our blog. 
The statistics surprised me.  We have had many more visitors than I ever would have imagined.  In addition to the friends and family who read the blog because they know us personally, there are people from all over the world who have never met us, who checked our site out at one time or another.  Some find the blog because they did a google search about a topic that was mentioned in one of our posts.  Also, a lot of Peace Corps applicants read blogs like ours as they prepare for service.  They want to know what it is like in Botswana, what to pack, how our application timeline compares to their experience, what did we put in our essays, etc.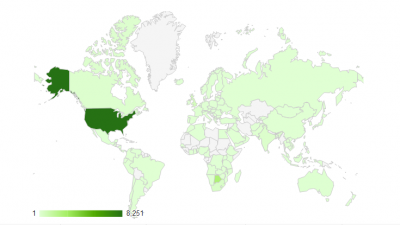 So here are the statistics on visitors to our site for a one year period, August 1, 2011 through July 31, 2012.
---
Statistics for 1 year:  August 1, 2011  –  July 31, 2012
Number and type of visitors during the year
7,813  – The number of unique visitors to our site
13,169  – The number of times those unique visitors visited our site
35,612  – The number of pages viewed during those visits to our site
2.70  – The average number of pages viewed per visit
59.17%  –  were brand new visitors
40.83%  –  were returning visitors
Geographic location of the 13,169 visitors to our site during the year
United States – 8,251 visits, representing  62.7%
Botswana – 2,291 visits, representing 17.4%
United Kingdom – 574 visits, representing 4.4%
South Africa – 327 visits, representing 2.5%
Other – Persons from all 50 states and 134 countries visited our site during that year.   As you might expect most visitors were from the USA, most from Georgia.  The top five states were Georgia, California, New York, Florida, Texas and Illinois
Sources of Traffic
45.74%  –  Search traffic.  Came by way of Google, etc
35.38%  –  Direct traffic.  People who typed in our web address
18.88%  –  Referral traffic.  Linked to from other web sites
Types of Browser used
Safari – 30.8%
Internet Explorer – 26.3%
Chrome – 22.1%
Firefox – 18.4%
Other –  2.4%
Types of Computer Operating System
Windows – 64.4%
Macintosh – 26.3%
Other – 9.3%
Visitors using smartphones
Blackberry – 33.5%
iPhone – 24.3%
iPad – 16.8%
iOs – 14.5%
Android – 7.7%
Other –  3.2%
The Top 15 Most Visited Blog Posts on our site in order