Regarding the title, I am posting this on July 2nd which is not usually considered Winter, but down here below the equator it most definitely is.
Frankly I am kind of running out of ideas to post about, so allow me to catch you up on a few things that have been going on this Spring/Winter…
Mid Service Training (MST)
MST represents the midpoint of our service, and also the last training session the Peace Corps gives us.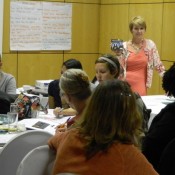 We will meet two more times before we leave the Peace Corps.  Once at our regional meetings next February where we will compare notes on what we are doing and catch up with each other; and also at our Close of Service (COS) conference where we will learn what we have to do to leave Botswana and the Peace Corps.  (I have heard that one weird thing we will be required to do at COS is produce stool samples for them three days in a row – so they can check for parasites, worms and whatever)
MST was held at the Oasis Motel in Gaborone.  It was fantastic.  Nice modern rooms with heat in the rooms and a fantastic shower that had great water pressure and very hot water.  When I finally emerged from the shower we went out to discover a very nice restaurant and an outdoor bar by a swimming pool.  It was too cool to swim, but we bought an alcoholic beverage (or two) and soon were seated with about ten other volunteers talking and having a good time.
The trainings started the next morning and were kind of boring and dull as most Peace Corps training sessions are (except for the very interesting session taught by Tish on Teach Aids).  We had a half day of training the following day, and that was it.  The best thing about MST is being back with our BOTS-10 family.  It is amazing how close you feel to these 27 people who all came together and have had a similar journey.
---
Survivors
I mentioned we had 27 in our Peace Corps family.  Actually, our Bots-10 group started with 40 volunteers in the waiting room at Kennedy airport in New York.  We lost the first one in that airport when a guy named TJ decided not to board the plane.  I hardly had time to get to know him!  During PST we lost a few more and then we lost the rest gradually during our first year of service.  Most recently we lost Maggie Kraft, who returned because she had an ailing mother and a job offer she could not turn down.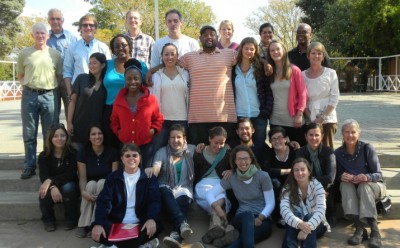 Our recruiter had told us that about 1/3 of all volunteers return home for one reason or another.  We are at that 1/3 mark (13 out of 40) so if we don't lose anyone else, our attrition rate will be considered normal.  We miss those who have left, but we understand sometimes it is just time to go.  I posted on this subject back in July.  At that time we had just lost eight volunteers.
---
Our Time to Go?
Have we ever considered packing up and leaving — most definitely YES.  Both of us have had our moments when we felt like quitting and taking the next plane home.
We have learned from others who left that if you tell Peace Corps Staff that you want to leave, their policy is to have you on a plane within 72 hours, sometimes the very next day.  I guess they don't want you here whining and complaining if you are ready to return.  (They don't even make you do all he stool samples — maybe they let you mail them in?)
Luckily neither of us thought about leaving at the same time. During the first year Tish struggled more than I did.  Now Tish is all sorted out and I am struggling some.  I really miss home, family, friends, and sometimes wonder if I am doing anything worthwhile enough to be here.  We have just 11 months to go, and I think we will make it.
---
His Excellency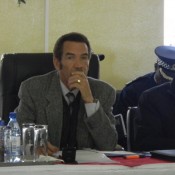 His Excellency the President of Botswana came to Mochudi recently.  I got to go to a meeting and see him.  I had hoped to have a picture of my shaking his hand.  It didn't happen, but not because of the kind of presidential security you see in the USA.  In Botswana things are a lot more relaxed.  We knew the meeting would be held in a certain room and we just waltzed in.  There were no background checks, no metal detectors to pass through, etc.  We were just there and he comes in sits down and begins speaking.
The President is an interesting man.  His name is Ian Khama and he is the son of the very first president of Botswana, Sir Seretse Khama.   He is the first sitting president I have been in the same room with.
---
This post is getting longer than I had intended so I will continue it in a Spring/Winter Happenings – Part 2 post in a week or two…