Back in the states one of my hobbies was cycling.  I did it for fun, exercise and competition.  Always an avid runner, I started cycling when I had an injury that prevented me from running; and I quickly found that I loved cycling.  I regret that I did not discover cycling earlier in my life.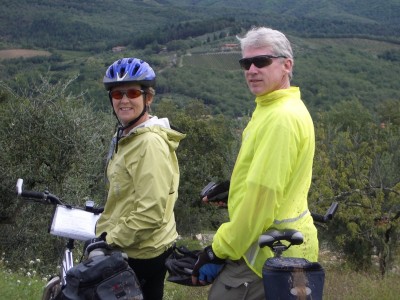 All the cycling I had done in the USA was on the roads.  I put over 20,000 miles on my first good bike, a Specialized Allez Comp.  The bike I currently own is a Trek 5500 (all carbon fibre with shimano Dura Ace components) and has over 10,000 miles on it.  At present it is sitting in my storage unit in Marietta, Ga. (what a waste).
I had a lot of fun with my road bikes, rode a lot of miles and burned a lot of calories.  I combined it with my love for running and competed in a lot of duathlon events.  In 2002 I was even invited to represent the USA in the ITU (International Triathlon Union) Long Course Duathlon world championship, which was held in Weyer, Austria.  I also went on many cycling vacations with Tish, all over the world.  All those years and miles of cycling and I NEVER went off road.
When I joined the Peace Corps I had to leave my bike behind, but hoped I would be able to cycle on the roads of Botswana.  I even brought my bike helmet.  Once in our village of Mochudi I quickly saw that road cycling was just not possible.  There were not that many paved roads, and the cars on those roads did not respect pedestrians and cyclists at all.  If I lived in Gabs it would be possible because there were a few nice roads with big shoulders to ride on.  Not so in Mochudi.  In Mochudi it would be suicidal.  (note:  I did find a safe road to ride on)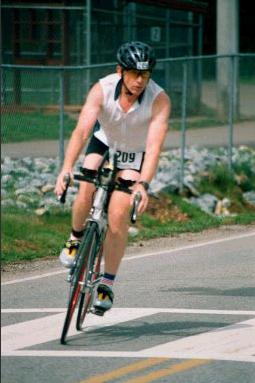 At church, I made a new friend who loves riding mountain bikes.  My friend, Steve Howell is Vice-Chancellor of the newest university in Botswana: Botswana International University of Science and Technology (BIUST).  He lives in Phakalane (an upscale suburb of Gabs) and loves riding mountain bikes with a local club.
After almost a year without exercise, my emerging pot belly and I realized that something had to change.  I just had to do something about getting more exercise and I decided my only way to ride was with a mountain bike.  At church I asked my new friend if he could help me find a bike to buy.  Coincidentally, Steve had just bought a new bike and his old one was for sale.  He offered to sell it to me and invited me to try it out one Saturday morning on a ride with his club.  This was to be my first foray into off-road cycling.
Off road cycling in Africa presents some unique challenges.  One challenge is the heat.  It is really hot here, so the rides start very early.  We started our ride at 6:30 am.  The sun had just come up and there were deep shadows.  I wore sunglasses to protect my eyes but found it was hard to see well because of the shadows.  I needed some clear or yellow lenses.  (I have sunglasses with changeable lenses — back home in storage)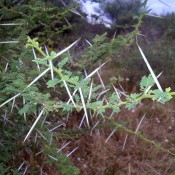 Another challenge is the effect of the terrain on your tires.  Botswana has some of the harshest terrain in the world for off road cycling, and tires get punctured quickly.  The combination of rugged trails that have different types of sharp loose rocks and a range of thorns including the long acacia thorns, make riding conditions extreme.  To deal with this, most riders get rid of the tubes in their tires and ride with tubeless tires with sealant inside.  When a thorn penetrates the tire and air starts to leak out, the sealant immediately plugs the hole.  It works like a champ.  Then if you had a puncture too big for the sealant to fix there is a small plug device you can insert into the hole.  If you get a large puncture that will not seal, then as a last resort, you could put a tube inside the tire and hope you make it home.  The bike Steve will sell me has already had the conversion to tubeless tires done.  I looked at his tires and was amazed at how many of the white acacia thorns were in his tires, but it was holding air.
The terrain is pretty hard on your skin as well.  The thorns penetrate skin even more easily than tires.  We stopped a few times during our ride to drink water, and I noticed that my arms were bleeding and the other riders' arms were not.  I assume that is because they are more experienced and are better at seeing and avoiding those sharp branches on each side of the trail.  Steve had warned me about that and suggested I not wear a shirt that I didn't mind getting snagged.  I am told that after a few rides I will pick up the skills needed to avoid most of the thorns.  I certainly hope so.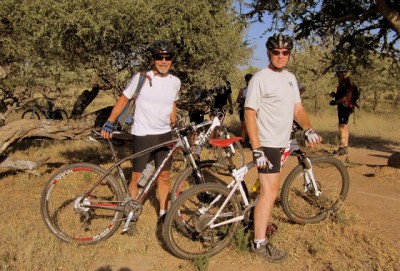 Anyone who lives in Botswana has encountered goats, cows and donkeys on the roads.  There are even more off-road as you would imagine.   Throughout the ride I occasionally would hear the bells that are fixed to collars on the animals.  Once we had to come to a complete halt as we encountered a small herd of cattle munching grass on our trail.  At one point we were going by a tall fence and I saw ostriches on the other side.  I guess it was an Ostrich farm.  I hear the meat is tasty.  I have seen it on the menu here, but never gave it a try.  I heard a story about a member of the cycling club who turned a corner and crossing the trail was a large black mamba, one of the most venomous land snakes in the world.  He had no option but to go over it, bump bump, and then he probably pedalled harder than he ever had in his life.  The black mamba is the fastest snake in the world capable of moving 10-12 mph.
The cyclists in the club are mostly ex-pats from South Africa or Zimbabwe.  Steve and I were the only Americans.  They seemed to be very nice folks whose conversation was spoken with a delightful English accent; and the topics ran to their favorite rugby or football (soccer) teams, upcoming mountain bike rides, and pleasant jabs at each other.
About 10 K into the ride my pedal got hung up on a small tree stump that I did not see and down I went.  "Do it again", I heard one of the guys yell out from behind me.  It was a lot of fun.  I got the complete experience, I fell, I got torn up by thorns, and was teased about both; I got a great workout with new friends and was done by 10:30.
It was so much fun I have decided to buy Steve's bike, and do it again next weekend, and every weekend…
______________________________________
Note:  I wrote this post months ago.  Since that time I purchased Steve's bike and rode with Steve's cycling club may times.  I have also found safe places to ride by myself during the week in Mochudi.  I ride daily now and have set some personal riding records while in Botswana.  In the month of November 2012 I rode over 1,100 miles, which is the most I have ever ridden in a single month.  For the year 2012 I also set my personal record for most miles in a single year at 5,252 miles.
I sold my bike in late March 2013 in anticipation of closing out our service and returning home.  The total number of miles ridden during the 12 months I owned a bike in Botswana was 7,129.