Recently Tish and I made our first major trip since being in Africa.  We visited Cape Town, South Africa.
When you are in the Peace Corps you live on a small monthly stipend.   The Peace Corps gives you enough to live on but not much more.  Most Peace Corps volunteers are right out of college and don't have much money and live within their Peace Corps budget, so when they travel they go as cheaply as possible.  This means staying in "Backpacker" lodges, hostels and the like.  Tish and I made the decision that when we go on vacation we will travel like we did before we joined the Peace Corps in nice B&B's and Hotels, which would mean using our money from back home.  So with that decision made, we planned our trip accordingly.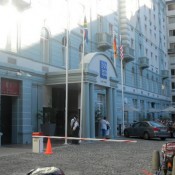 To get to Cape Town, first we took a bus from our village to Gabs.  From Gabs we planned to take the Intercape bus to Johannesburg, South Africa and fly to Cape Town from there.  The Intercape bus leaves Gabs at 6:30 am but the buses from Mochudi to Gabs don't start early enough to get us there in time, so we came the afternoon before and crashed in the Gaborone home of Carolyn, our good friend and Peace Corps Volunteer.  Early the next morning we hoisted our backpacks and walked the two miles from Carolyn's house to the Main Mall where the Intercape buses board.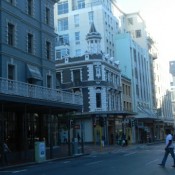 Previously we had some problems with our Visa credit card and the Visa Debit card that draws from our American account.  At one time or another, both cards had been frozen when they saw charges from Africa and got spooked, thinking some kind of fraud was involved.  It happened when I tried to purchase the bus tickets on-line and I had to call America (no small feat in itself) and get them to un-freeze the card and quit doing that. It happened a different time when I tried to withdraw a lot of Pula using my American Debit card, to pay for a different upcoming trip.  Once more, I had to call the USA and straighten that out.   The debit card was frozen because I went over my daily limit (my bad, I didn't know there was a limit).  From then on any withdrawals had to be limited to however many Pula or Rand does not exceed the equivalent of $500 US dollars.
The Intercape bus line is a South African company and is different from the bus service we are used to in Botswana.  The Intercape bus was new, clean, quiet, and air-conditioned.  The seats were comfortable making for a very nice five-hour trip to Johannesburg.  Once in Jo'burg we needed to take a cab to the Johannesburg International airport (also called O.R.Tambo airport).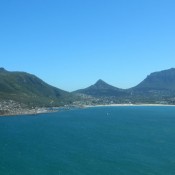 At this point no one wanted the Pula in our pocket, they wanted South African Rand.  So before we got the cab we needed money to pay for it.  We went into the bus/train station and found an ATM to get some Rand using my American debit card.  I was a little stressed as I stood in the bus station in Jo'burg with no Rand in my pocket and needing to get to the airport to catch my flight. Would I have more trouble with my Visa Debit card?  Would I be able to get cab fare to the airport?  No problem, everything worked fine.  We got our Rand and took the cab to the airport.
Another reason for concern was crime.  There I was in the bus/train station in Jo'burg with about 6,000 Rand stuffed in my pocket.  I tried to be as discrete as possible when getting the money from the ATM, but one never knows.  I had heard that crime is much worse in South Africa, and that the criminals in SA are very violent.  They often won't just rob you, but might kill you while doing it.  At the end of the day, we never had any problems related to crime during our whole trip and felt quite safe during or trip.  I am sure that the stories we had heard were true, but we didn't go out after dark unless we took a cab and stayed away from any sketchy parts of town.
The cab charged 250 Rand.  Being in Botswana or South Africa where the exchange rate is approx $1 = 7.30 Pula or Rand, the prices of everything seem higher.  When the cabbie asks for 250 I automatically think in dollars, and then remember it is Pula or Rand, do the math, and feel better.  This happens all the time.  We spent 400 Rand for a nice dinner one night.  Converted to dollars it was about $55, and it was a very nice meal with drinks at a very nice restaurant — definitely a reasonable price.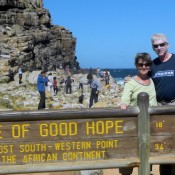 South Africa was very nice.  As soon as we crossed the border from Botswana we saw differences.  The first thing we noticed was that the bus did not have to slow or stop for donkeys, goats or cows as is common in Botswana.  There was much more cultivated farmland.  In one area there were corn and sunflower fields for miles.  (Much of what we eat in Botswana is imported from South Africa.)   The system of roads in South Africa was much better than in Botswana.  By the time we got to the airport in Jo'burg we felt like we were back in civilization again.
We had time for lunch in the airport before we caught our Kululu airlines flight to Cape Town.  Kululu is one of three discount airlines flying in South Africa.  All three had about the same prices but we decided against the other two (Mango Air and Velvet Sky).  It is a good thing we did because by the time we made our trip Velvet Sky had been shut down for having unsafe equipment, and were going to go out of business.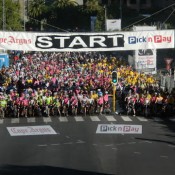 We arrived in Cape Town in the evening and took a shuttle (210 rand) to our hotel.  We stayed at Inn on the Square which was directly on Green Market Square, one block from Long Street which is the main drag.   It was an ideal location and the hotel was great quality even by American standards.  It cost about 3,800 Rand for 4 nights — if you do the math, that is a little over $100 per night for a very nice hotel, a good deal).
The first full day we went on the Daytrippers Peninsula Tour excursion. It cost 545 Rand per person. For that price we spent the day traveling in a comfortable van with three other very nice people and a very knowledgeable guide.  We saw the fishing village of Hout Bay, went on a boat excursion to Duiker Island to see the colony of Cape Fur seals, and then drove the entire peninsula all the way to Cape of Good Hope by way of Chapmans Peak and other beautiful sights.  At Simon Town we saw the colony of cute Jack-Ass penguins on Boulder Beach.  After that we cycled (on bikes provided by our guides) through the Cape of Good Hope nature reserve.  After we stopped for our lunch we continued on our bikes all the way to the Cape of Good Hope.    This is supposedly the southernmost part of Africa and where the Atlantic and the Indian oceans meet.  We then hiked to the bluffs overlooking the cape which had beautiful views and then on to the lighthouse.  It was a great way to see the area and worth every cent.  Another thing that made it fun was that Kevin, our guide, is an experienced skydiver (over 2,000 jumps) and I finally had someone to talk with about skydiving.
The views in Cape Town are spectacular.  You have the ocean on one side, and Cape Town is overlooked on the other side by Table Mountain, a very popular tourist destination.  You can see Table Mountain in almost any picture of Cape Town, and if you watched the World Cup last year, you saw it in the backdrop of Cape Town's football stadium.  It is flanked by other mountains including Lion's Head on the right.
The next day we climbed Table Mountain. We hiked the Platteklip Gorge route which is the easiest way up.  It took us about two hours of hard climbing.  All along the way the view was beautiful.  When we looked up the top was obscured by a blanket of clouds.  The top of Table Mountain is at 1,086 meters (3,566 feet) above sea level. We begin the climb at 302 meters (991 feet) above sea level.  We climbed about 2,600 feet.  For my Atlanta friends, that is like climbing Stone Mountain three times – and it is steep all the way.)  Once we made it to the top, we enjoyed the views and went into a restaurant to buy some overpriced food. There is always a chance that when you get to the top you will be unable to see the views due to clouds, fortunately the clouds had cleared away when we were on top. We took the cable car down.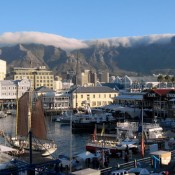 That night we went to the waterfront area which is very nice but somewhat touristy.  It reminded me a lot of Fisherman's Wharf in San Francisco.  There was some nice shopping there and a lot of restaurant options (average food for tourist prices).  It is really nice there and we ate our meal at a very nice restaurant outside on the waterfront, and in the distance was Table Mountain.  Gorgeous.  There is a theatre there as well, and so we even went to a movie.
When we planned our trip one of the things Tish did was to go on the internet and google "cycling and Cape Town".  Among other things, she discovered that during the week we were there the annual  Cape Argus bicycle race was being held.  It is an annual event and is the largest race of its kind.  Over 35,000 cyclists from all over the world ride the scenic 110 kilometre (about 70 mile) route down the peninsula and back. We saw the start (it reminded me of the Peachtree Road Race on bikes) and went to the finish line to see people coming in. It was very fun to be around so much cycling activities as it is a passion of ours.  I really miss riding my bike on a regular basis, and would love to return to take part in that ride one day.   Another cycling event Tish found out about was the annual Naked Bike Ride.  We had to go and see what that was all about and it was pretty funny (we did not take part, but we took lots of pictures).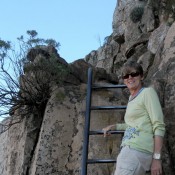 Coincidentally (and appropriately), there was a full moon on the night of the Naked Bike Ride.  We wanted to climb Lion's Head to see sunset.  It is a pretty popular thing to do when the moon is full.  Lion's Head is a peak right next to Table Mountain.  We took a cab to the trail head for Lion's Head (the cabbie knew where it was), and we arranged for him to come back and get us.  This hike was my favorite part of the trip.  The hike was easy at first, but the final quarter of it was pretty intense.  It was very steep, and to make matters worse the wind really started blowing.  The climbing became almost vertical in some places and there were ladders in place to help out at the steepest places.  It was all worth it, the view was spectacular and it was a party atmosphere on the top.  Coming down was easier of course, but even more intense as the wind was gusting to at least 50 mph.
We left Cape Town the next morning and we had done everything I wanted to do except for seeing Robben Island.   This is the historic prison set out in the bay (similar to Alcatraz), where Nelson Mandela spent over 20 years of his incarceration.  If you want to visit Robben Island you have to make your reservation weeks in advance online and I had failed to do that.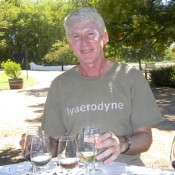 The next day we went to a pretty little town in the wine country of South Africa called Stellenbosch.   It is a very quaint little town.  It reminded me of the towns in New Zealand.  The area was settled in the 1600's, and some of the vineyards were started in the late 1600's.  It only coast 13 rand to travel there by train.  We stayed at a nice B&B called Black Horse B&B.   Stellenbosch has many very nice restaurants and shops, and we met our goal of eating gelato at least once every day.  We even managed to get a pedicure while we were there (my first one in a year).
The first full day in Stellenbosch we made arrangements to take the Easy Rider Vineyard tour.  This cost about 500 Rand each and took us to four vineyards for wine tastings, and lunch was included.  There was a knowledgeable, but sort of grumpy guide taking us around and we travelled in a van with three other tourists.  We went to vineyards in Stellenbosch, Paarl and Franschhoek. It was a lot of fun, the wine was good and scenery was outstanding.  They were very generous with the wine and served enough wine to get you drunk if you weren't careful!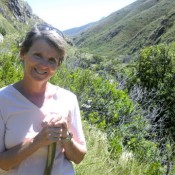 The second full day we rented bikes and made a wonderfully scenic ride to the Jonkershoek Nature Reserve where we locked up our bikes and took one of the many hikes in the area.
Traveling back home started very early, and was a reverse of the way we had gotten there:  Shuttle to the Cape Town airport, Kululu flight to Jo'burg, cab to the bus station, Intercape bus to Gabs, cab to Carolyn's house (as it was 9:30 pm), and then a bus back to Mochudi the next morning.
It was a fantastic trip.  The next trip we make will be to the Tulli Block in Botswana.  We will be going on some game drives and hope to see our first elephants and lions.
You can see our pictures of the Cape Town trip by clicking  HERE