We call it "Africa time. "  It is a term used to describe the more relaxed or casual attitude toward time here in Botswana.  If you have an appointment for a meeting at 2 pm, there is a chance the meeting will not happen at all; and if it does happen it probably will be well past 2 pm.
On occasions when the subject comes up, the Batswana I have spoken with usually shake their heads with disappointment and say, "Aeesh, Batswana do not respect time.  It is very very bad."  They are aware that most of the developed world operates "on time" and that they are different.  Some Batswana perceived it as a weakness and something that needs to be fixed, many don't seem inclined to do anything about it.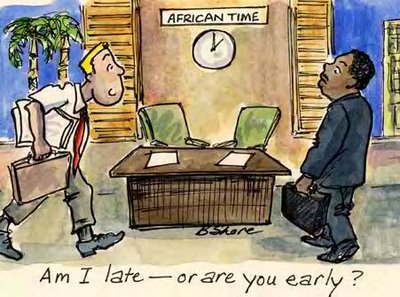 When we had just arrived in Botswana, we were at Big Five Lodge for a few days before going to Kanye for PST.  After dinner one night I was talking with, Joel, a volunteer from the previous group of volunteers, Bots-9.  They had been in-country for a year at that point and had learned a few things.  I overheard him talking to a Motswana who was going to bring something to the hotel.  The man told Joel he would bring it, "now".  Joel replied, "can you bring it now now".  Apparently in this culture with it's more relaxed attitude about time, "now" doesn't really mean "right now".   When you say "now", If you want to specify that you mean now, as in right now, this very minute, you have to say "now now."
Some other recent examples of Africa Time…
This past Valentine's Day I was at Stepping Stones at 2:30 to prepare for a 3 pm appointment to teach computer skills to two staff members.  At 3:30 one showed up for class late, with no explanation, the other student never did.
That same Valentine's Day Stepping Stones put on a dinner to raise money for the kids.  The kids would provide a nice romantic dinner meal and entertainment for P100.  Dinner was to start at 6 pm.  I was hungry at 6 pm, but dinner was not served until 7:45 (with no explanation for the delay), and we left at 9:30.  Had it started on time, we would have left in time to catch a cab or combi home.  We had to walk all the way home in the dark, and I was a little nervous, but we got home safely.
Recently some of my office staff and I were to be at the District Admin offices to meet with Malaudi (the District Commissioner, the top government official in the Kgatleng District) and her department heads to view a first version of the office video we are putting together.  At 11:00 am, I reminded my boss of the meeting.  At 11:45, I reminded her again and she said realized we didn't have transport.  Our driver, Ntseane, had left to take someone else somewhere.  At this point my inclination was to walk down to the street and take a combi, and be on time.  My boss said we would wait for Ntseane.  We finally arrived at the offices at 12:30.  I hated being late.  To my relief Africa Time worked to my advantage for once as the meeting didn't begin until 1 pm anyway, so we weren't late after all.
Tish was invited to a baby shower for one of her co-workers.  The invitation said 2 pm.  Tish was warned to not show up at 2, so she showed up at 3 pm.  Other guests arrived around 5 pm.
Tish and I went to the Peace Corps Regional meetings recently.  We were fortunate to have a driver that would take us to Molepolole and bring us home.  We did not have to be there until 5 pm, but I told our driver I needed to be there at 3 pm.  It is a good thing I told that little fib, as he got us there at 4 pm.  For the return home, I asked him to fetch us at 12 pm, we were actually ready to go at that hour, but he showed up at 2 pm.
You see it at work in our church service as well.  The services at Open Baptist Church start on time (the Pastor is South African, not a Motswana), but the church is only half full when service begins.  By the time the service is half over the latecomers have arrived and the church is full.
Not only are Batswana casual about when meetings are to begin, but they wait until the last minute to plan for meetings or activities.  It is very common for someone to rush in to my office and ask me to type up an agenda or sign-up sheet for a meeting or workshop that is to begin within minutes.
Recently I was in the office when someone came in (an hour late) to discuss an activity that is to be held at their venue.  Discussions took place of how many attendees there will be, what needs to be served, etc.  I listened for awhile and asked, "Now, when will this event be taking place?"  Their answer… the next day.   When they replied that it was to take place the very next day, I laughed.  I told them that in America if an event was to be held there would probably be several meetings weeks prior to the event, all required tasks would be listed, people would be assigned responsibility for tasks, and everything done way before the eve of the event.  I asked why they didn't do these things earlier, and they replied with some variation of the usual responses:  they knew they should, they don't know why they don't, blah blah blah.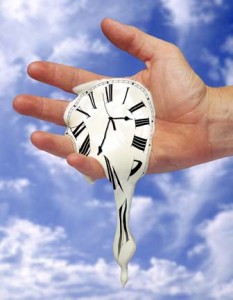 This goes on constantly.  All kinds of planned gatherings, from social gatherings to high-level professional meetings; that are planned for a certain time cannot start on time because participants show up late.  To time-conscious Americans it can be irritating and frustrating, but we try to go with the flow and not see it as rudeness.  Schooled in timeliness, we see it as harmful to the development of Batswana, who would be more effective in their jobs if they operated on schedule.  I realize that not everyone sees the world or time the same way, and there are other ways of living life.  Perhaps I am wrong to see my way as right and theirs as wrong.
There is an interesting Wikipedia entry on "African Time" which discusses this topic.