The official website of the Peace Corps has a section for education and contains a game meant for kids. It is for fun, and also a resource for teachers. I have a feeling adults might like it too.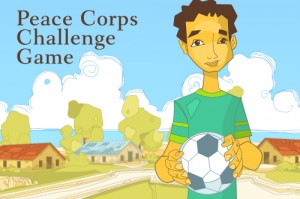 It is called the Peace Corps Challenge Game. In the game, players take the role of a Peace Corps Volunteer assigned to the fictional village of Wanzuzu. In the game players explore eight critical challenges villagers are faced with, and determine realistic and sustainable solutions to improve their quality of life.
The eight critical challenges the game addresses are real life issues. They are:
Water Contamination
Sanitation & Disease
Microfinance
Barren Fields
Malaria
Soil Runoff
Educating Village Girls
Agroforestry
The Peace Corps Challenge Game can be found by clicking here.
Have fun !