Umbrellas in Botswana, just like Peace Corps Volunteers, have primary and secondary projects.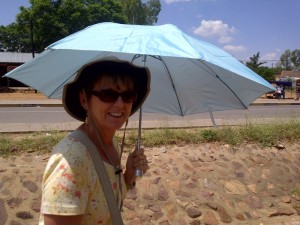 Back home, if I see someone at the mall looking through the umbrella rack, I know they are thinking about rain.  Here in Botswana, protection from rain is an umbrella's "secondary project".  The main purpose for an umbrella here is to provide shade from the sun.  I think I have mentioned a few times in previous posts how hot it gets here (this post, and this post).  I am sorry to go on and on about it, but it is a fact of life here, causing a significant number of people to carry umbrellas for shade.  It seems to be mostly women, but a few men carry them as well.
Tish even has gotten into the habit.  She bought her first umbrella for 40 Pula (about $5) and it only lasted two months.  She just bought a replacement at a china shop for 18 Pula (about $2.50), that is already showing signs of wear.
I am departing from the subject of umbrellas, but I must explain that a "China shop" is not where you go to buy fine China for your dining table.  Here in Botswana "china shop"  is the name given to any of the many small stores usually run by Asians (Chinese maybe?).  The stores carry cheap imported goods (from China?), which are cheap, but the quality is usually very poor.  Every village of any size has several china shops.  This should give you an idea of how poor quality is pervasive in these china shops:  When Tish picked out her umbrella and took it to the cashier the sale was not rung up right away.  First an Asian clerk took it out of the wrapper and opened it right in the store to be sure it worked.  Even the proprietors of the china shops don't trust the quality.  The first umbrella that was opened in the store as it turns out was indeed broken.  Tish went and picked out another umbrella and handed it to the clerk…it too was broken.  At this point I asked Tish if she was sure she wanted to buy the umbrella at this china shop, I mean they were zero for two at that point.  As Tish reached for umbrella number three, she reasoned that at 18 Pula, if it just lasted one month, it was an equal  value to the previous one she had bought for 40 Pula.  Umbrella number three worked, and is still working as of this morning.
See below for pictures of umbrellas and china shops…