Shoes – I have always been a shoe person.  I would rather have a new pair of shoes than a massage, a night on the town, or a pair of diamond earrings (even the ones that come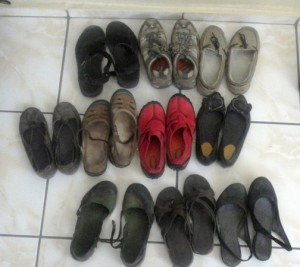 from the store with the elegant turquoise box).  My wardrobe primarily consists of the same ole skirt or pair of jeans partnered with a different pair of shoes each day to change things up a bit.  In Botswana, good walking shoes are a must, especially with aging feet.  But the shoes I value most are the ones I wear in the house:  my flip flops in the heat and my fluff lined slippers in the cold.  I love these shoes for several reasons:  Number one, you never know what you might step on, so that makes going barefoot in the house risky.   Number two, you always need something handy to smash spiders with.  I can yank off a flip flop, nail a spider, blow off the remains, and have the shoe back on in a blink of an eye, Marshall Dillon style.  Have flip flops, will travel.  Number three, the flip flops are essential for travel on a Peace Corps budget.  They are light weight, pack easily, and I can take a shower in the most grungy of places in my trusty flip flops, with no worries about the fungus quietly growing next to the drain.
Quality kitchen tools – As we completed our pre-service training and got assigned to Mochudi, the Peace Corps gave us a moving in allowance to buy items to set up house.  They transported us to a shopping mall in Gaborone and gave us a "shopping day", which ended up being a few hours to buy the main items you might need to live in Botswana for the next two years.  Up to that point, the only money we'd had access to was 25 pula per day walking around allowance.  I really had no idea how to judge what things cost.   I bought a set of non-stick pots and pans with glass lids for 250 pula, even though I saw more expensive ones for 500-600 pula.  They only have to last two years, I thought.  I don't have to have the "good" ones.  Big mistake.  When we were settling in our first house, I opened the box to find the handle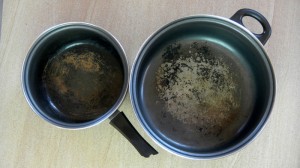 broken in half on one pot.  Oh well, no returns for me – not worth a bus trip to Gabs and a hassle at the customer service counter.  Within the next two months, one handle fell off the soup pot.  The non-stick finish started non-sticking to the pots and I feared we were eating chemical spiced spaghetti sauce on a regular basis.  I saved my pula and spotted a mid-sized quality non-stick pot at Woolworths, the store for rich people at the ritzy mall in Gabs.  I gladly paid the 310 pula.  I am a happy cook now.  With my new pot, the non-stick skillet and Wusthof knives I brought from home, I am sautéing in style.  Just hope my can opener holds up.  I'm already on the second one of those.
Scissors – I have short hair and have no intention of letting it grow and becoming the old Peace Corps chic with the gray pony tail.  I brought a good pair of scissors for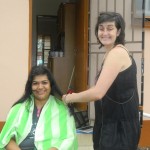 trimming hair from home and use them every week or two.  I can trim my bangs and any part of my hair on the top and in front I can see in the mirror. My friend VA, another Bots 10 PCV, is my Botswana stylist and does a great job of shaping up my do whenever I see her.  She gave me a new look Christmas morning, a most appreciated gift.  Even Marion is becoming handy with the scissors and trims my neckline in a pinch.  I may not wear makeup any more, but every girl needs a good haircut.
Marion – Even though he is not really a possession, I'm not sure I would be a successful Peace Corps Volunteer without him.  Marion is valuable beyond belief.  First of all he handles all the issues related to our housing, which pretty much is a part time job.  In the beginning, the big challenge involved making sure we even had a house to live in.  Then we had to learn to buy electricity, and figure out how to get reimbursed for it.  He hounded the DAC office regularly, until we got the refrigerator and beds we had been promised.  And then started round two of hounding, to get the old bed and broken fridge  we inherited from Rex, the previous PCV, removed from the house.  He purchased and arranged trash pick-up, and now has to hassle th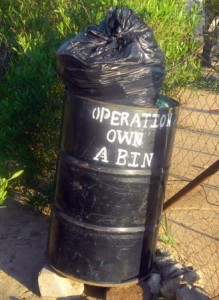 em monthly to actually get the trashed picked up.   Each of these issues takes multiple requests and follow-up visits to accomplish, all of which have to be done in person. He personally knows all the people who work at the DA (District Administration).  His patience and persistence is remarkable.  He just makes a "project" of the task, and stays on top of it until it is resolved.  Marion is also my personal IT consultant.  I'm the first to admit I rode the short bus to computer school and cut class regularly.  Now I'm paying for it.  Who knew I was going to need computer skills to be a Peace Corps Volunteer?  I wasn't even expecting electricity, much less internet.  But thankfully he is here to coach me through what I need to learn, including the fun stuff, like uploading photos to send home.  And as a bonus, the man can magically get any TV show, any movie (I probably saw "The Help" before you did), and any music on the computer.  We will easily be entertained for more than two years.  If you are reading this blog, you know who set up the website – my best friend in Botswana.
Miscellaneous – There are a few other goodies I can't leave out.  My durable pair of rubber gloves, especially useful for hand washing clothes.  Cloth bags for transporting groceries home from the store.  There is so much trash in Botswana, I can't stand to use plastic bags and add to the litter.  Our Scrabble game, good for hours of entertainment.  I never knew how many people love playing Scrabble.  In winter, my down jacket saved me from being miserable in the cold.  I never took it off, except to sleep, for about two months.  And lastly, pens.  Why pens?  If I had a pula for every time I've been asked, "Can I borrow your pen?' since I arrived in Botswana, I could pay for a plane ticket home.  No one in Botswana has a pen.  There's a black hole in Botswana somewhere, and it is full of pens.