A lot of things have happened over the last few months that I have not written about.  Before they completely slip my mind, I will write about several of those events together in this post…
---
BOTS-11
The next group of Peace Corps Volunteers arrived in September and began their Peace Corps Botswana pre-service training (PST).  I was invited to Kanye on two of their training days to share with them about opportunities to build capacity by teaching IT.  It was fun to meet the trainees and share their excitement, enthusiasm and anxiety.  We were in their shoes just seven short months ago, and it sure brought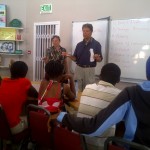 back a lot of memories.  Also during the BOTS-11 PST we hosted John Mark and Carol Rekamp, a married couple from Illinois as they "shadowed" us for a few days.  We loved getting to know John and Carol.  We also were glad to have the opportunity to "pay forward" some of the generous hospitality that the McGees showered on us when we shadowed them back in May (you can read my post about shadowing with the McGees by clicking here).   The Bots-11 group were sworn in on November 7th and are no longer trainees, they are full-fledged Peace Corps volunteers.   And we aren't the "new guys" anymore!
Khama Rhino Sanctuary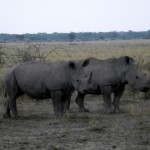 Tish and I, along with about eight other volunteers, travelled to the Khama Rhino Sanctuary a few weeks ago.  This was our very first trip to see parts of Botswana other than places related to Peace Corps training or our own village.  We had to travel via public transportation, hauling our backpacks up to the road and waiting for the bus, then changing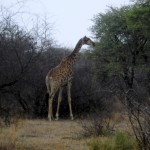 busses in Gabs.  The trip was long but uneventful.  Our destination was between the villages of Orapa and Serowe.  When we arrived we all walked in to reception and registered.  We were shown to our four-person chalet which we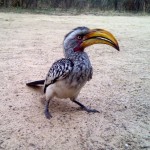 shared with two others.  The rest of the volunteers all camped next to the chalet, which was the place to hang out.  The site had a fire pit and braai stand which we used on our last night when we cooked out and had a roaring bonfire.  We went on a few game drives and of course we did see some rhinos.  We also saw giraffes, kudos, wart hogs, hyenas, and a number of other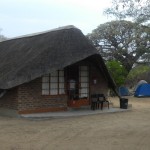 animals.  There was one very cool looking bird that was quite friendly.  I guess he was used to people giving him handouts because he would eat peanuts and raisins right out of our hands.  It was a great trip.  It was fun just to get away and hang out with some of our Bots-10 family for a weekend.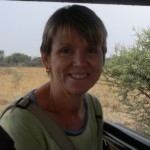 One interesting thing I discovered about traveling here in Botswana, since most people do not have checking accounts or credit cards, to make a reservation we had to go to the bank used by Khama Rhino Sanctuary and then deposit money into their account (they gave me the account number), then we had to fax the receipt to them.  Kind of a hassle but it works.
---
New Furniture
We got new beds and a refrigerator!   Yay..    There is no telling how many years old the old beds were.  They were well used when Rex (my predecessor) got them three years ago.  Our mattress was just a five-inch deep foam pad that had compressed to almost nothing in places.  The ministry of local government finally got us a new double bed for our room, a new one for our guest room, and we will keep the single for a third guest room.  We also got a working refrigerator that will take the place of the teeny dorm-size refrigerator we had been making do with.  I celebrated by buying ice cream for the first time which was now possible since we have a freezer.
Most of you also know that I now have a washing machine.  We had been washing clothes by hand from April, when we arrived in Botswana, until we finally moved into our permanent house and could buy the washer – which was in late September.  I will not miss washing clothes by hand.  I am convinced the washing machine is man's greatest invention (with Reese's Cups a close second).
---
Evidence Based Planning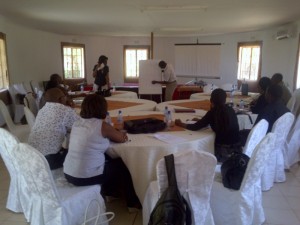 The biggest event of the year for the District Aids Coordinating office (DAC), where I work, is the Evidence Based Planing (EBP) retreat.  We went to Rasesa Lodge for a week of meetings with the stakeholders of the district to plan for the upcoming year.  We were there to plan activities to educate the district on issues related to HIV/AIDS.  The planned activities were to educate or advocate on the particular issues that most affected our district.  The week-long meeting was pretty interesting.  At times everyone was speaking in Setswana, and I had no idea what was being said.  About 75% of the time I knew what was going on and contributed at times.  On Thursday of that week I was asked to Chair the meeting, which was mostly fun, until they began arguing in Setswana and I had no clue what was going on.  After five days we had identified the thorny issues for our district, come up with objectives for addressing those issues, and then planned activities to educate the district on those issues.
The next step is to send the plan to the government, who will study it and return it to us with their answer whether they will fund the activities we have planned.  Then for the remaining year, we will help the implementors in actually making the plan a reality and conducting the activities.
We have planned many different types of activities for the varied audiences and subject matter.  Everything from talks at schools (about HIV AIDS topics), to a Valentine's dance for couples (to encourage couples testing), to workshops on Multiple Concurrent Partnerships (MCP) and Safe Male Circumcision (SMC), and many other types of activities.
The EBP meetings and resulting plan is the focus of the District Aids Coordinator's office for the entire year and really is their reason for being.  I was glad that I was there and could help.
---
Language Week (Nov 21-25)
The Peace Corps allows volunteers to travel and get together in a group for a week for language training.  It is called "Language week".  During that week we study with a Peace Corps Language and Culture Facilitator (LCF).  Trainees like to plan a language week in the village of the volunteer in the coolest place.  That way, they get to see something they have never seen before, and not use up vacation days.  The days are filled with language training, but there are a few hours here or there, and weekends, for sightseeing.  We picked the week of Thanksgiving so that we could also have a Thanksgiving celebration with some other Americans.  Turkey is not eaten much in Botswana and so special arrangements had to be made to find one.  We will be picking up the Turkey for our host, Dinah Sandoval, in the village of Maun which is on the way.
We will be going to the Dinah's village which is called Shakawe.  It is clear on the other side of Botswana, only about 10 miles from the border with Namibia.  To get there we will get up at 4 am (tomorrow morning, as I am writing this) and walk to the road.  We will get on the bus to Gabs for the 1 hour trip there, then find the bus to Maun in the bus rank.  The trip to Maun takes about 12 hours.  At Maun we have made arrangements to crash at the house of a BOTS-8 volunteer named Allison who is graciously opening her home to us.  The next day, we will make contact with Dinah who has arranged transportation for us from Maun to Shakawe (another 4 hours) where we will spend the week.
Shakawe is on the Okavango Delta and so we may have a chance to see some wildlife.  It would be really nice to get better with my Setswana, but I will consider the trip a success if I get to see either a hippo or an elephant.  If all goes as planed we will be in Shakawe as you read this, so maybe there will be more posted  about our language week (hopefully with pictures of elephants and hippos).   Tune in later.