Tish and I have started working on a project together.  We are part of a STEPS facilitation team, showing STEPS films to audiences and leading the discussion following the viewing.  It is the first project Tish and I have worked on together, and I am enjoying that.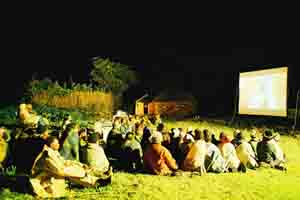 STEPS films come from an organization in South Africa.  "STEPS" stands for "Social Transformation and Empowerment Projects."  They have collaborated with AIDS organizations and international filmmakers to produce a series of 38 documentary films which they call "STEPS for the future".  These  films are on a variety of topics, are of different lengths (from 15 to 50 mins) and are suitable for different audiences. These unconventional, provocative, sometimes disturbing films are about life in Southern Africa in the presence of Aids.  They are shown to groups to encourage discussion and debate on subjects related to HIV/AIDS, with the purpose of educating and encouraging behaviour change.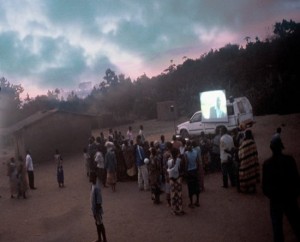 Showing STEPS films is a great secondary project for Peace Corps volunteers and many of us are showing them.  Tish and I along with my counterpart, Watota, were trained on how to facilitate STEPS film presentations back in August.  We have already facilitated three showings.  The films are a very effective tool to get people to talk and to focus the conversation.  This is the first Peace Corps project that Tish and I are working on together, which is fun.
We showed a short film called "Looking Good" to the Mochudi Teen Club at Stepping Stones International last Saturday.  The film is a documentary about three men in Lesotho living with HIV.  The 25 or so teens in the Mochudi Teen Club, all are living with HIV as well, most since birth.  These kids have HIV, and will always have it.  The motto of their club is "Life Goes On".  The film was a story of hope and courage as these men struggled with survival, discrimination and stigma.  At the conclusion of the film the teens opened up like they hadn't before and talked about their own experiences.  The conversation was mostly in Setswana, translated by Thato, one of the teen club leaders.
As I mentioned, our STEPS facilitation team includes my counterpart, Watota.  Another reason Watota is vital to our team is because he is a Motswana and speaks Setswana.  Following a STEPS video, the resulting conversation is often emotional and deep, and is about feelings.  Most of the time the vocabulary isn't good enough to converse on those topics in English, and so they speak in Setswana.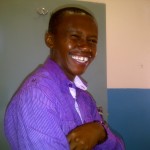 Watota is a small man physically but more than makes up for that with the passion he has for his job, his self confidence, and big personality.  He is 32, almost the same age as my son, but looks much younger.  His job title is CCE Projects Officer.  CCE stands for Community Conversation Enhancement.  His job is all about "conversation".  The idea being that if you get people talking about a subject, it will be on their mind and perhaps behaviour will change.  The "conversation" in Watota's case as CCE Projects Officer would be on issues related to HIV/AIDS.  These issues include MCP (Multiple Concurrent Partnerships), condom usage, (PMTCT) Prevention of Mother To Child Transmission, inter-generational or transactional sex, ARV (Anti Retro-Viral drug) adherence, OVC (Orphans and Vulnerable Children, Stigma and Discrimination, etc.  In short, every issue related to the prevention of HIV/AIDS, and support and care for those infected and affected.  Watota is a perfect fit to be a on our STEPS team, and we couldn't do it without him.
On two different days this week, we presented a short film titled "Dreams of a Good Life", which was about women living with HIV and talking about how it has affected their dreams for life.  We showed this film to District Personal.  We did one showing of "Dreams" at the DAC office for FRS (Food Relief Services) employees.  Eleven persons attended that showing.  We showed the same film at the District Administration offices for about 20 employees, during their "prayer hour".  Yes, in Botswana government employees have an official "prayer hour".  In both presentations the film affected people.  I saw a few tears during the film.  Often I could not understand the conversations that followed the film, but there was no mistaking the emotion and concern in their voices.
Watota did most of the talking (mostly in Setswana) and focused the discussions by asking the group leading questions.  People talked freely about their lives.  Some people talked about caring for a family member with HIV¸ some shared about their concerns for their teen kids.  A few times people asked questions or made statements that showed that they had incorrect information about HIV/AIDS, and that was an opportunity for us to correct those mistaken beliefs.
This is exactly the kind of project that we imagined ourselves doing in the Peace Corps.