Prior to joining the Peace Corps and moving to Botswana, Tish and I sold our house and moved in with her mother in Marietta, Ga.  Marietta was too far away from the church we had been attending, Grace Fellowship, so we looked around for a local church and found Johnson Ferry Baptist Church.  It is a huge church, and for that reason we did not have high hopes, but we were pleasantly surprised.  JFBC turned out to be one of the best churches we have ever attended.  The Senior Pastor, Bryant Wright is a wonderful preacher.  We started attending a class called Seasons and became connected with some wonderful Christian people who lived on that side of town.  When April rolled around and we left for Botswana we were sorry to leave JFBC, and we wondered if we would find a church to attend.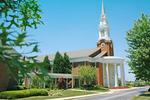 It turns out that JFBC has a partnership with a church in Gaborone, Botswana called Open Baptist Church, also called OBC.  We were told about this church, and filed the information away but assumed that we would not be anywhere near Gaborone
In Kanye we attended church once.  We went with our host-mother Tebogo Gophamodimo to the local Catholic church.  We enjoyed it, but we are Protestants and wanted to attend a Protestant church.  Two months later we moved to the village of Mochudi and still could not find a church.  Finally after four months of not attending church, we decided to take the bus to Gabs to see if we could find Open Baptist Church.
But where was Open Baptist Church?  An internet search led us to the church's web page.  That search also took us to another web page that gave the GPS coordinates of OBC, which I entered into my Blackberry.  We needed to know what combi route we needed to take from the bus rank.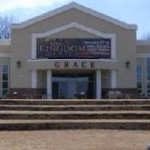 I emailed the address given in their web page asking what bus or combi to take to get there, but got no reply.  So we fired up my GPS and left the house.  To catch a bus you go up to the main street and wait, usually no longer than 30 minutes.  In Botswana people hitch rides and pay the driver the same fare they would pay the bus.  Peace Corps volunteers are not supposed to hitch rides (unless it is the only way to get to their site), but this rule is often ignored as hitching can be the best way to get around.  The cost is the same, and you aren't stopping to let people on and off, plus it is never crowded as the bus often is.  Just remember not to take the ride if the driver appears drunk!  We were waiting with three other Batswana women.  They were standing on the side of the road giving the sign indicating they wanted to hitch a ride, when a very nice van came by and stopped.  There was plenty of room and so we hopped in too.
The van proceeded the 30K or so to Gabs as I watched my little blue dot moving along on the Google Maps app on my Blackberry smartphone.  As it got to an intersection somewhat close to the GPS coordinates we thought represented the church's location, we paid our 18 pula and got off.  We had to walk about 1.5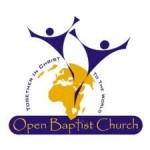 miles but when we got where it was supposed to be, it wasn't there.  We were in a pretty sketchy part of town.  We asked an old lady who was walking by, "ke kopa Open Baptist Church?"  She proceeded to unleash a stream of Setswana on us that we had no hope of understanding, and then she pointed.  After walking a little further in the direction she had pointed we saw a sign with the OBC logo (I mean a man-made sign, nothing heavenly or anything) and knew we were on the right track.  It turns out the church had moved some months ago and Google didn't know.  About 1/2 mile further and we were there.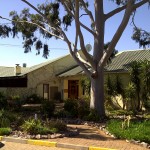 The church turned out to be wonderful.  The diversity of the congregatation was amazing.  Batswana, South Africans, Namibians, Kenyans, Americans, Germans, Indians, it was like the United Nations.  We loved the music as well.  Old hymns sprinkled in with praise songs in English and Setswana. The pastor, Norman Schaefer is originally from South Africa, and we enjoyed his sermon very much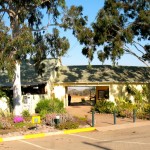 That day we also met some very nice folks from our own village of Mochudi, Roy and Sonya and their five kids.  Roy and Sonya are missionaries from Wyoming.  Roy invited us to a bible study in Mochudi, that we attend every Thursday night, and we have been back to OBC almost every Sunday morning.
The bible instructs us to meet together with other believers, and now He has given us a way to do that.
"And let us consider how we may spur one another on toward love and good deeds.  Let us not give up meeting together as some are in the habit of doing, but let us encourage one another – and all the more as you see the Day approaching."   (Hebrews 10:24-25, New International Version)