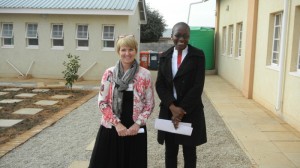 Friday was an interesting day for me.
I am finally starting to build relationships with the kids at Stepping Stones International, the NGO where I am assigned to do capacity building.  Last week I sat in on a workshop with the girls, most ages 13 – 16.  It was conducted by the social workers at Stepping Stones and included topics on stuff like building self-esteem, differentiating between needs and wants, children's rights, human rights, and sexual rights.  Even though 75% of the sessions were conducted in Setswana, I was in the room, learning the girls' names and participating in activities, so I am becoming a familiar presence with them.
Wednesday of this week I taught a session on reproductive health.  I had the kids draw pictures of the changes that occur with puberty.  We discussed menstruation and how a woman becomes pregnant, not the sex part, the where the egg comes from part, how it gets fertilized and grows in the uterus.  All of this ties in to teen pregnancy prevention.  We had pamphlets on abstinence, which I forgot to give out and the girls came up and asked for later.  My teaching that session now identifies me as someone who knows about women's health, someone who can answer questions, hopefully someone they see as staff member they can talk to.
So I am now called by my name, I call many of the girls by their names, I give and receive a lot of high fives and smiles and have brief conversations, limited more by my Setswana skills, than their English.  I know these kids are "orphans and vulnerable children" or OVCs, meaning their lives have been affected by HIV/AIDS, and many come from limited means.  I see the worn and tattered school uniforms they wear day after day, with the pant legs too short, holes in the elbows, and shoes that don't fit. But I also see kids that like to play games, ride skateboards, and hold hands with their friends.  I had gotten where they just seemed like normal kids to me.
Friday is Income Generation Day at Stepping Stones International.  The kids belong to different enterprises, one called Art Masters that makes jewelry out of magazines paper, one called Hungry Hippos that does catering, a drama group that gives performances, and one that shows movies.  The purpose is to teach the kids business skills and leadership skills.  Joanna is the staff member who heads up this program.  She held an exercise to teach about saving money.  She had the kids stand in a circle and she would toss a ball to a child and have them complete this sentence, "As a child, I would save for_____".  As the kids caught the ball, they each answered, saying things like "candy", "a bicycle", "a playstation", and "going to university."
Then Joanna changed it up and asked them to complete this sentence, "Adults/parents save money for _______."  Thinking someone might toss the ball to me, I was ready with my answer, "travel".  I got a reality check and a lump in my throat as I listened to their answers:  "pots for the kitchen", "toiletries", "electricity for the house", "funerals".  I thought about how the answers would be different if kids I know in the US were playing this game.
Later that day, two young boys not quite yet in puberty, were joking around and singing a song that sounded like rap music to me.  I asked if they liked music and did they write songs.  Yes was the response.  One answered that he had written a song, a gospel song.  I requested a performance.  He smiled shyly and covered his face with his hand.  Then he began to sing, with a radiant face, in a beautiful voice, a song about the power of God.  This time tears welled up with the lump in my throat.
I am in Africa, in Mochudi, Botswana and life for the children at Stepping Stones International is vastly different than my life back at home.  Friday was a good reminder of why I came.