Tuesday, June 7, 2011, we were sworn in as Peace Corps Volunteers.
We had our final language proficiency interview (LPI) last Friday and Marion and I both scored "novice high", which means we can say hello, ask basic questions, answer basic questions and fake it in Setswana.  However if someone is talking at a normal pace, I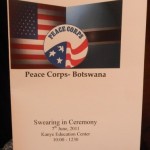 only catch a word or two, and it mostly sounds like gibberish.  Fortunately, English is the official language of Botswana, so most people speak English fluently, they just converse with each other in Setswana.  So they could be talking about how yellow my teeth are, or how big my butt looks in that outfit and I would never have a clue.
The previous Saturday morning we had a thank-you party for the host families to thank them for housing us in their homes over the past nine weeks.  I was on the cooking committee.  We had the daunting task of planning the meal and cooking for 200 people!!!!  The Peace Corps trainees wanted to eat comfort foods from home.  Our budget was P2700 pula (about $420).  Our first menu of barbecued chicken, Mac 'n cheese, baked beans, tomato and cucumber salad, and apple brown betty was unaffordable.  No one wanted to give up the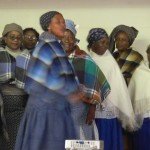 macaroni and cheese, and cheese here is pricy.  So we kept the Mac 'n cheese.  We decided to also serve chili over rice, the Batswana really like their starches and eat large portions, plus we couldn't afford plates and bowls, so we had to have something to catch the chili.  We also served tomato cucumber salad, and Rice Krispie treats for dessert.
Have you ever tried to make macaroni and cheese for 200 people???  Well, whatta ya know, if you Google, "macaroni and cheese for 200", you can find a recipe.  You just have to convert everything into metric proportions before you go shopping.  I did wake up with an anxiety attack  the night before, worried that we were not going to have enough food, that I had done the conversions incorrectly, and about how on earth a few nonprofessional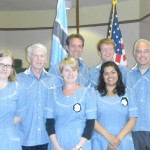 cooks with good intentions could make a meal turn out for 200 people.  Somehow we managed.  We basically made a gigantic white sauce and then threw in as much cheese as our budget allowed.  We were sweating when it took an hour and a half for the white sauce to thicken, but it all turned out just fine.  Add some pasta and voila, macaroni and cheese for 200. The chili was great, even if we there is no such thing as chili powder in Botswana.  We just played MacGyver with the available spices and concocted a close approximation to chili.  The Rice Krispie treats had a strawberry flavor.  You can only get pink and white marshmallows in Botswana, who knew they were strawberry and not just plain with pink food coloring? In the end, everyone loved the meal and it was the first time any of us have been full since arriving in Botswana.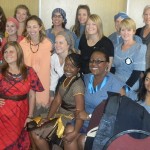 The party was fun.  The entertainment committee put together a swing dance demonstration for the locals.  Some of our musically talented trainees sang.  Carolyn is a trained opera singer and she belted out Amazing Grace to the cheers of all the audience, Batswana and American.  Then there was a "fashion show", poking fun at ourselves and the way we dress with Chaco's and headlamps and multipocketed vests, etc.  The hit of the runway was Shelly, dressed in a mosquito net, holding a can of Doom, insect repellant.  Certificates were presented to each family, thanking them and acknowledging the part they played in the training of the Peace Corps volunteers.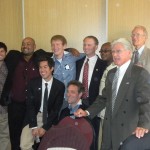 That night we presented Tebogo with our gift for her.  It was a Petzel head lamp.  A few weeks after we moved in with her the power went out (not unusual in Botswana).  We have Petzel headlamps and we put ours on and went about our business.  Tebogo had to go outside and asked to borrow one of our "torches" (the Batswana, like the English refer to flashlights as torches).  We showed her how it fit on her head leaving her hands free and she absolutely loved it.  She liked it so much I was afraid I would not get it back, but we did. Over the course of the next few weeks she borrowed it a time or two.  We found one in Gabs while there on the way back from our shadowing trip to Selebi-Phikewi and purchased it.  When we gave it to Tebogo, she was ecstatic.  Hugging us, she said she thought she would never find one of these in Botswana.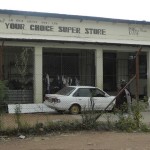 Sunday was a relaxing day and that evening we went to still another party.  This one was held at the compound of Mr. Kahn, an Indian immigrant to Botswana.  He owned several stores in Kanye, one of which we frequented quite a bit.  He got to know a few of us as we would buy cokes, snacks, and fat-cakes (a Botswana pastry) at his shop while walking to and from our training center.  Mr. Kahn, though Indian by birth, is a citizen of Botswana and loves the country.  He really appreciates the Peace Corps and what they do for Botswana and wanted to show his appreciation by throwing us a party at his own expense.  Everyone was invited, Peace Corps trainees and Peace Corps staff.  Sunday at 4 pm the party began, he cooked chicken, beef and goat meat over a large fire.  We arrived a few minutes late and missed the slaughtering of the goat.  The weather cooperated, it was blessedly warm. It had been very cold the previous week, going down into the low 30's some mornings.  After the party, the Peace Corps provided us with transportation back to our homes since it was after dark.
The Monday morning prior to swearing-in was to be the final day of pre-service training.  Like the final day of any school, not a whole lot of teaching and learning was going on.  One scheduled class was cancelled.  Some groups made their presentations to the class about a site visit.  Those of us who had finished our portfolios had them returned to us.  Announcements were made about the logistics of the swearing in ceremony.  There were questions from many of the trainees about the logistics of getting to their sites on Wednesday.  Then, the final class officially ended and over the next few hours we all collected any stored luggage we had and the purchases we had made in Gaborone the preceding Friday's "shopping day".  We were transported with all of our stuff to our homes.  It was the last time we probably would ever see the RIIC Training Center where we had spent six days per week for the last eight weeks.  We spent the rest of Monday packing for our trip on Wednesday to Mochudi.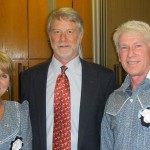 Tuesday morning, the ceremony was to begin at 10:30 am and the plan was to drive to the Kanye Education Center for the ceremony with Tebogo.  Early in the morning, before breakfast there was the sound of someone at the door.  People don't knock in Botswana; they just say "Ko Ko, Ko Ko", as they stand outside, or as they enter.  One of the other host family mothers and their tailor had arrived to deliver a hand made traditional dress for Tish, and a traditional shirt for me.  They wanted us to try them on and be sure they fit – for the ceremony.  In fact, our whole language group, who lived in the Ntsweng area of Kanye, got matching outfits.  Wait till you see the photos.  We look like a bowling league.  It was the thought that counts.  It was a very nice gesture by the host families.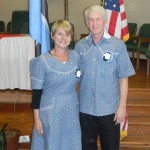 Wearing our traditional garb, we headed out to the swearing in ceremony which was held coincidentally at the same location of our Home Stay Matching ceremony two months before.  Things started a little late (not surprisingly).  Then when the US Ambassador to Botswana arrived we all stood while he and the other dignitaries came in and took their seats.  We heard the Botswana national anthem followed by the national anthem of the USA.  There were speeches by Heather Robinson, the Peace Corps acting Country Director, a Minister of Parliament, a Councilman, a representative of NACA and a representative from the Kgosi.  The featured speaker was the US Ambassador to Botswana, Stephen Nolan.  Finally, Ambassador Nolan asked us to stand and raise our right hands and he told us the words to say and we repeated them back to him.  We were Peace Corps Volunteers at last.
We first started talking about joining the Peace Corps back in October of 2009.  Even though we had been invited to serve and had been flown to Botswana for two months of training, it was not until that moment that we truly became Peace Corps Volunteers.