When the Peace Corps sent Tish and me to stay with Chuck and Mary McGee at their site in Selebi-Phikewi, we had to use public transportation to get there, which meant a bus, or a "combi" (which is like a van), a cab, hitchhiking, hiking or any combination of the above.   The day before we left we had a training session on transportation and the Peace Corps staff did a good job of scaring the crap out of us teaching us of what to be aware of when taking public transportation.  In Botswana most people are very honest, but like anywhere, there are thieves.  There are pickpockets out there who want to take your cell phone or money.  Also, if the bus is crowded a thief is likely to try to unzip your backpack and reach inside for the goodies.  On city streets there are thieves who will attempt to snatch a purse or a backpack.
The average Motswana dislikes thieves and when one is caught they don't wait for the police and mete out a little justice of their own.  We are told that if we are robbed, yell out "Legodu" (thief), or "Ke copa thusa" (I need help) and people will come to your aid.  In fact, they will run down a thief and start beating the tar out of him.  One volunteer told us that once she was in a cab driving along a street in Botswana when she and the driver observed a guy running down the street with people running after him.  The driver stopped the cab, got out and joined the crowd that chased the thief down.
For safety reasons, the Peace Corps policy is that the volunteers are never to travel after dark.  Some of our fellow trainees had been assigned to shadow someone clear on the other side of the country, and so their travel included an overnight stay along the way.  Most people were faced with a bus ride with a transfer, or a bus ride followed by a combi ride.  One girl had to take a bus, followed by a combi, then the final leg she had to hitchhike.  In some areas there is no public transportation at all, so hitching is the only way.
Our travel was not that bad.  The Peace Corps took most trainees to the Gaborone bus rank where they helped us find the right bus and waited until we all got off okay.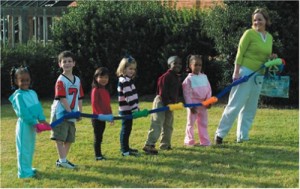 It kind of reminded me of pre-school teachers and children.  Peace Corps staff did not make us hold onto a rope or wear a sign on our chest, but they probably wanted to.  Believe me, we welcomed the help.  The day started very early for us, we had to get up at 4:30 am to be ready to be picked up by Peace Corps at 5:30 am.  We shared the ride to Gaborone with Tom and Michelle, two trainees in our language group.  We each carried our backpack.
Regarding the backpacks, the thinking was that the road or path we would have to walk on after we got off the bus might not be suitable for a suitcase with wheels.  My backpack is perfect for back-and-forth to school.  It has a section to hold the laptop and other separate sections for books, folders and the like.  It is not so great for a five day trip.  Tish's backpack, on the other hand, is perfect.  Though both backpacks hold about the same 42 liter volume, Tish's has fewer separate sections and a large open section.  It is easier to pack a lot of stuff in it.
Upon arrival in Gaborone we found that the bus rank was not very crowded.  We were told that since the previous weekend had the Easter holidays, and everyone had traveled back to their villages then, there wouldn't be much traveling this week or the upcoming weekend.  We had spent a considerable amount of time and energy trying to figure out how to best secure our belongings so they would foil pickpockets or other thieves in the crowds.  As it turns out I felt completely safe.  Better to be safe than sorry, I guess.
Our friends Tom and Michelle went off to find their busses and we met up with three others who would be on our bus for all or part of our trip.  Karen was going all the way to Selebi-Phikewi and then would be getting on another bus to Madinare where she would meet her host who would accompany her in a combi to Tsetsejwe.  Jim (the 84 year old) and Susan would be getting off at stops midway and would meet their hosts.
The Gabarone bus rank was a large area with lanes for busses to park.  There was a structure on one end with a waiting area and toilets.  The destinations of the busses were displayed on the front of the busses and we quickly found ours.  It wasn't to leave for another hour, but we decided to get on and get our seats.
Before the bus departed, while passengers were getting on board and settling in their seats, vendors constantly came on and off the bus, walking up and down the aisle trying to sell their wares – candy, magazines, complete meals, and many other things.  They spoke very fast Setswana and I would just wave my hand and say "ke sharp" (slang for I'm fine).  I know my pronunciation is bad because some of the nearby passengers look at me and smile.  As passengers got on the bus to find a seat, they had to squeeze by the vendors who were holding their wares.
The bus ride itself was uneventful.  Tish and I were able to get our own 3-person row of seats.  I put my backpack above the seat and Tish put hers in the middle and we settled in with our books for the five hour trip.  It was not crowded, usually all seats are taken and often some unlucky passengers end up standing for the entire journey.
You pay for the bus ride after getting on, once the bus is underway.  There are two bus employees on board, the driver (obviously) and there is another employee whose job is to collect the money and give receipts.  It is all done in cash.  The fare was P77.70.  I handed her a P100 note and she opened her notebook and wrote out a receipt.  She handed me the receipt but did not give me any change, and went on to the next person.  At the top of the receipt she had written out "22.30."  This is the amount she owed me for change and as she accumulated more cash from other passengers she would be able to come back through the bus and give the change she owed.
99% of roads in Botswana are two lanes.  Traffic moves fast and when they come up on a slow car, they pass — on the right.  The British influence showing, traffic stays left on the roads here in Botswana and passes on the right.  The bus will sometimes slow and you will look ahead to see livestock crossing the road, usually donkeys (ditonki) or cows (dikgomo), sometimes goats (dipodi).  I saw the stupidest donkey in the world on this trip.  This donkey was lying in a lane, resting, not bothered by the cars and busses that whizzed by, just inches away.
There was no bathroom on the bus.  We had been warned that if the bus had a bathroom it would not be clean, and we would need to bring our own toilet paper.  The bus did make two stops along the way at bus ranks for other villages.  I could get off and visit the toilet at one of these stops if I needed to, but I would have to make it fast or the bus would leave without me.  I got off at one stop and found a toilet where I was charged P2 (two Pula) to use the facilities.  I only had a P1 coin, and a P200 bill which I was afraid they could not change so I just get back on the bus.  At the next stop I had the coins I needed.  I handed the toilet lady the P2 coin and she handed me a small amount of toilet paper and waved me to the men's side.  Our backpacks always contain a pack of Kleenex – just in case.
I know Tish posted information about toilets, but I have a few words to say on the subject.  I am pretty sure that you would not be able to find even one toilet in any public building in Botswana that has toilet paper.  They all are built with toilet paper holders, but you never find a roll there.  Often they won't even have a toilet seat.  I am not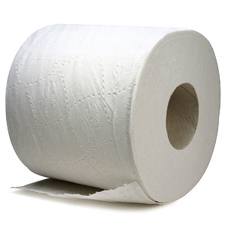 sure where the toilet paper goes, maybe people steal it.  Even in government office buildings you won't have toilet paper.  Our friend Chuck, who we shadowed recently, works in the District Aids Coordinator office.  He said they issue employees a roll of paper that they keep in their desks and carry with them when they need to go.  It would not surprise me if even the president of the country, Seretse Khama Ian Khama, had to carry a roll of toilet paper in his briefcase.
All the busses we traveled on were very used.  The seats had tears in them with the stuffing showing.  The bigger busses have a TV up front, presumably to show a movie, but they are all broken.  The area around Kanye is hilly and rocky, as we travelled northeast from Gaborone the landscape became flatter.  This was the type of landscape I was expecting to see in Botswana.  Kanye is considered one of the coldest parts of Botswana, as we moved northeast the temperature started to rise.
Finally we started seeing signs for Selebi-Phikewi and we got ready to depart.  Chuck had sent us a text that he worked right across the street and would be there to meet us.  He told us he would be the guy wearing white Nike tennis shoes.  Very funny.  It isn't hard to meet up with people if they are white because they are usually the only white person in sight.  This doesn't work if the volunteer you are meeting is African-American, though even they are usually recognized as American by their clothes and mannerisms.
We met Chuck and before we left we made sure Karen was squared-away and knew where to find her bus.  I felt a little guilty leaving Karen there, a pretty young girl standing in the hot sun under the weight of her travel backpack, the only American, and the only white person around.  I had to remind myself that she would be fine, and I was right.
On the return trip from Selebi-Phikewi to Gabs (Gaborone is often called Gabs) we weren't as lucky — the bus was crowded.  We had gotten to the bus rank early and got our seats, but the bus quickly filled up with passengers standing in the aisles.  We rode that way for about a third of the trip and enough passengers got off at our first stop that no one was standing anymore.  People don't talk a lot on the busses.  I usually say dumela (hello) to the person next to me.  They reply, "Dumela rra," and give me a look.  Often they will then say something else to see if I really know Setswana, and after I exhaust my Setswana repertoire (60 seconds later), or if she starts talking at full speed, I have to confess that I only know a little.
We arrived in Gabs early and decided to take a combi to the local shopping center for lunch.  Combis are cheaper than cabs, but you share them with others and they make predetermined stops.  You get in your combi and it just sits there and will not move until it is full.  You pay when you have reached your stop and get out.  After lunch we took a cab back to the bus rank.  Taking a cab is different.  Cabs have a route they often go on, if you want to go to a specific place you have to ask for a "special", and negotiate the price.  I was told it should not be more than P20 to go to the bus rank.  When I asked the price the driver said P30.  I said that it should be P20 to which the driver replied, "P25."  Since the difference of 5 Pula only amounts to about 80 cents (American), I said that would be fine.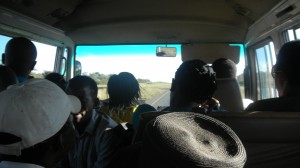 Once back at the Gabs bus rank we walked to the front of the row of busses and looked for the Kanye sign.  We found it and got in.  Soon the bus filled and got really crowded with many people standing.  Some people were standing the entire 90 minute ride to Kanye.  Just when I thought they couldn't possibly add any more passengers, they would pull over at a bus stop and let two or three more on.
Once at the Kanye bus rank, we left the bus and hopped in a cab, asked for a "special" to the Ntswng ward, the area of Kanye where we live, and then directed him to Tebogo's house.
We were nervous when we first arrived at the Gabs bus rank, but after negotiating the bus ranks in Gabs, Selebi-Phikewi, and Kanye, and successfully riding in combis and cabs we felt like old hands.